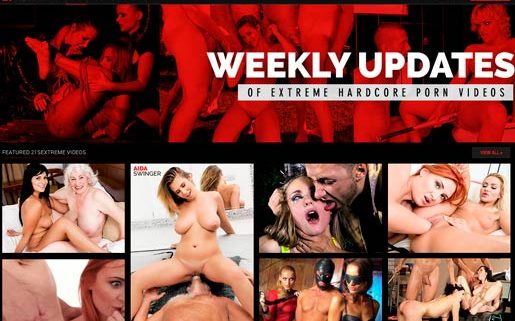 Intro
One of the top fetish xxx sites, 21Sextreme offers you multiple genres of hardcore porn. They feature models from fresh to seasoned, and from amateur to popular all performing sex acts you just don't see every day. Some of the kinkiest scenarios you can think of and beyond your imagination, are exclusively found only on 21Sextreme.
Website Layout
For a website cluttered with kinky porn, many taboos, and fetishes, it's organized pretty well. You don't get distracted by ads, the online flash player can dim the light around it so that you can focus on the movie better. This is stuff that really matters these days, and stuff that can set you apart from the rest of the herd. Because they cover so much ground, from lesbian nipple clamping to grandpas or grandmas porn, it's great to see that the basic search box is accompanied by many filtering options. While you don't get to go to category pages, you can use multiple category tags and apply them as filters in order to display your favorite type of sex videos. You can also rate scenes and save favorites to watch again at a later visit without having to search again.
For a website that's been online since 2004, it's amazing how well it keeps to industry standards in both quality and navigation. Mobile users will have no problem browsing and pretentious people will have no trouble getting their hands on HD quality videos. Since 2010 they've uploaded only HD resolutions but the stuff before that is SD quality. At least they have 13 years worth of videos online. To those of you familiar just like with any of the other sites in the 21Sextury Network, membership comes in the form of a one-month subscription, a three months subscription or a 12-month membership plan. This will let you download over 4000 videos and probably the same amount of photo galleries. Access to the entire network is also given upon purchasing any of the three premium membership plans however; the two-day trial does not.
Models & Video Quality
Where to start? I think I've seen some of the freshest stars in the making on 21Sextreme. I've seen the tightest brunette chicks getting dominated and tied up. I've also seen beautiful blonde chicks get gangbanged and covered in cum. Once you scroll long enough you wind up in the aged section. There you might see two grandmas going at it or some old fat dude having his way with a slim fresh hottie. The models are really all over the place so I guess it's safe to say that whatever your type is, you'll find it here in seconds. Hot, ugly, big tits, saggy tits, hairy pussy, there isn't much missing from 21Sextreme.
The site advertises HD content and while that's kind of true for updates dating back to 2010 it's worth noting that there's also a tone of stuff available only in SD, pre 2010. Updates are made weekly at least four times and they include both videos as MP4 formats and high res jpeg photo galleries already zip archived for your convenience. There are no limits to how many scenes you can take down at a time or in total.
Final Resume
This has to be the first site I see that has already amassed so many videos that I wouldn't mind if they don't upload new stuff for an entire year. Really now, if 4000+ videos of hardcore fetish sex acts aren't enough, I don't know what is.

… or check these awesome porn review sites for further info about this one.
---