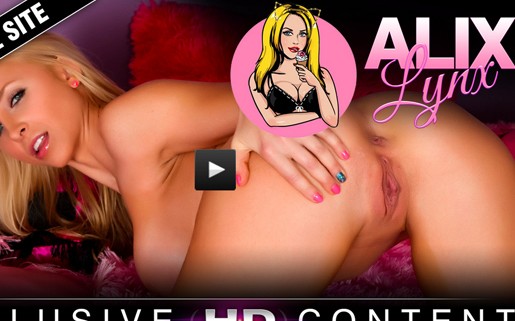 Intro
When I came to AlixLynx's site, I was faced with the option to enter, or to leave. Looking straight at me with a rock hard body was one hell of a damsel, literally purring off the page, there is no way you can do anything, but enter. Alix is becoming a huge name in the Adult industry and as you delve deeper you can see why. She's got the smarts (an MBA!!), she's got the body and she's got that little look in her eye that says "come closer, I have something for you".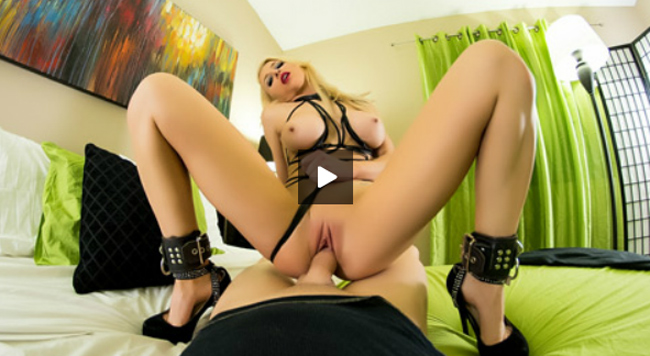 Website Layout
There is a bit of a playboy vibe going on with Alix's website, though I think this is due to the purple and black color scheme that they share. But she is no playboy bunny, she is certainly much, much more. On the right hand side of the page is a short bio with some key, important facts, not least of all are her stats, which you'll be please to know are quite impressive. There is an introduction video at the top of the site and a simple 4 column layout to the rest of the page. This is quite a good format as they manage to squeeze a lot of her content into a little space whilst keeping it easily visible and clear. Content type isn't clearly differentiated though and videos will be mixed together with their corresponding photos in the same list. I found the site really easy to navigate and there are separations on the site for standard scenes, bonus material and members only access. It has not been designed with mobile browsers in mind and using the video on them can be really tricky.
Models & Video Quality
So Alix is a bit of an oddball, she somehow got the gift of not only an amazing mind, but also a body to match and the desire to get out there and flaunt it on camera, in any variety of situations you might care to imagine. She confesses to being up for just about anything and she really does seem true to her word. She works with a big team of girls and a lot of 3 ways or Girl on Girl action goes on. Sucking dick or eating pussy she is a star, any which way. She has developed into a pro after just starting out as a web-cam girl, but now she owns the camera and lets it see the best and the naughtiest in her. There isn't a specified number of videos on the site so I had a go at counting myself. I lost count around 110. So there is an abundance of material, including photos for each of the scenes as well. With videos running around 20 minutes on average and photo collections being about 100-200+ in some cases. The videos all seem to be in HD and are available for streaming directly from the site. I couldn't find more information on download options though. The membership plans cost a modest sum and I think make for a bargain, as you will also get full access to the PUBA Network affiliated sites, which include 60+ sites of premium content. This is an exclusive bonus for site members and really is worth every cent.
Final Resume
Alix is much more than an impressive pair of breasts. Her site showcases some real talent and it is clear and easy to access. I think they could do more with it to show her off and make videos and photos separate, but this is inconsequential because I enjoy the site and all it had to offer.

Back to the best pay porn sites or check these awesome porn review sites for further info about this one.
| Review Site | Evalutation | Trial Price | Monthly Price | Yearly Price |
| --- | --- | --- | --- | --- |
| | | | | |
| | | | | |
| | | | | |
---