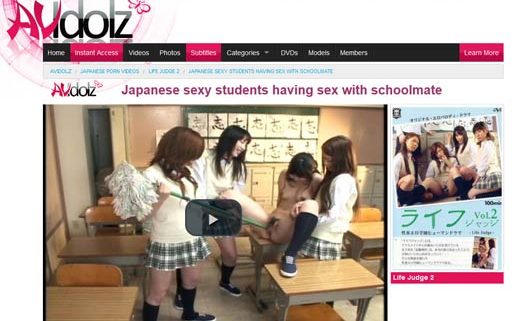 Intro
The tagline for AVIdolz is "Uncensored Japanese porn videos", and that is exactly what it is! A bevvy of Asian beauties, with exotic eyes, porcelain skin, and coy smiles, with clear views of the action. No pixels, which is a rare find in Japanese porn.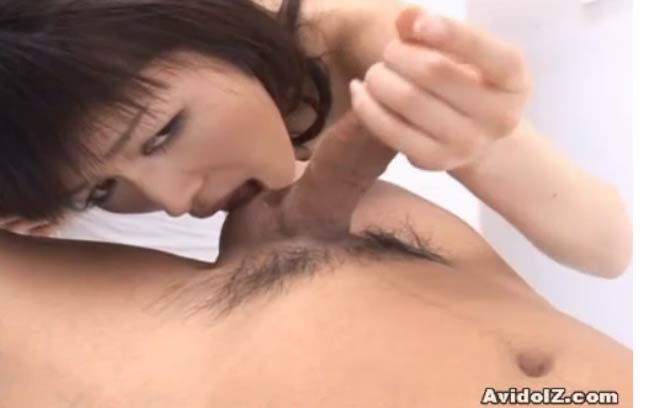 Website Layout
AVIdolz has a simple white layout with pink accents, reminiscent of cherry blossoms. The navigation is easy, with category tabs across the top, including one called Subtitles, which has all of the scenes with English subtitles, for those who want some context to the story line.
The first section of "Japanese Full HD videos" are three videos wide, showing a scene from the video, and three videos long. The next section showing "Most popular Japanese porn videos" shows only the names of the videos plus some details, with the exception of a single video that shows a picture. This looks messy, and at first, glace is just outright confusing. What I can say without hesitation is that the initial feel of the site is simple and clean.
Models & Video Quality
Models at AVIdolz are all the typical Asian body type for porn: slender with a decent sized rack. Nearly all are of Japanese descent and certainly above the age of consent. Most girls have tits that look bigger on a brief frame, all the better for bouncing. I wish there was a D-cup or BBWs but can't complain as you know Asians especially Japanese have slender bodies. So it just serves them right.
There are over 330 girls featured on this site, all semi-professional to professional in appearance. With Asian girls, it's not easy to approximate their age, especially when some of them are dressed as schoolgirls. But that's the fun part because even MILFs never look below their age. So I can assume that there're a couple of teenmoms in a decent number of scenes, and of course, all girls are mature.
About the videos, they are well-shot and organized. Videos come with titles, names of the stars, run time, and rating out of 100%. Videos come with thumbnails that give you a first glimpse into what a video is all about. Most thumbnails in AVIdolz are pictures of the models' faces. Sometimes there is a penis in her mouth so generally you can know who features in what video before you download or hit the play button. I must say the girls are sexy and this does a good job of grabbing anyone's attention. When you hit the play button, you'll really appreciate the skills these amazing girls have. From blowjobs to anal, they never disappoint! Videos have 1 minute long trailers that are available to view without membership. Overall, there are over 400 videos, all coming in around an hour to an hour and a half, available in MP4 and Flash (in-browser) format.
There are also over 480 galleries, with an average of 50 pictures per gallery. Most of the latest videos are shot in High Definition while older ones still look decent. What I like is that there is no download limit for members. As of now, there are five different options for membership plans. Membership comes with bonus that gives you access to downloads from six other Asian fetish sites.
Final Resume
AVIdolz is a porn site dedicated to fans of Asian xxx videos and girls. What stands out about this site is that all of the videos featured are completely uncensored, which is a rare commodity in Japanese porn. If you've had difficulty finding uncensored Asian poon, then this is the site for you. Membership comes with bonus videos from sister sites.