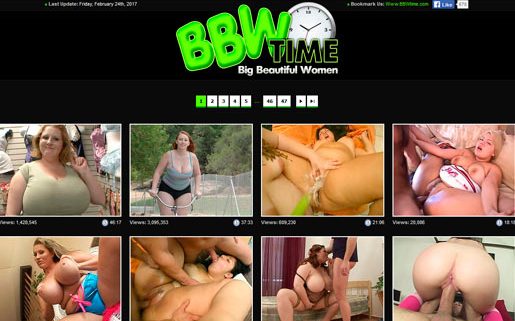 Intro
Big beautiful women have always been the favorites of many males. With more and more porn producers appearing online, the number of BBW porn sites increases as well. If you become a member of such a site, you are going to see that there are many hardcore niches covered by the videos, and BBWs are doing all the thing their not-so-big partner could. On the BBWTime you can access a pretty handsome collection of hardcore BBW porn, and while you are in there, you could watch even more than what you might have hoped for. The BBWTime is not a site without a background.
As a non-standalone site, the BBWTime has a lot up its sleeve. It's a network site of the VideosZ, and it's also a teaser: you can get much more BBW content once you become a member. At the time of our review, the BBW collection of the VideosZ exceeded the 1,000 scenes' mark, with a few hundred HD scenes in there. And of course, there the aforementioned bonuses. The VideosZ itself is a huge compilation site with more than 18000 DVDs coming from different producers. There is hardly any exclusive porn here, but the site keeps on updating every day, and it offers more than just a few scenes. With over 105,000 porn scenes the VideosZ is truly something.

Website Layout
There are lots of sexy pictures listed on the home page of the BBWTime, and also there are several hardcore events featured on those stills. This means you could get the idea about the content, and if you are looking for BBW porn, you will probably head straight to sign up. It's easy and simple, and when you are done, you can start browsing the site's collection. In order to satisfy your needs, the folks behind the BBWTime created a members' zone, where browsing is quite easy.
There are two ways to find the BBW content: you can either open the network sites' list to choose BBWTime, or you could simply click on the BBW genre on the list. If you have a favorite actress, you can see if she is here, by typing her name in the search box. There are several other options too, and the videos' list has a few useful filters, e.g.: you can make it show only the HD videos. As usual, there is a video stream to enjoy (and it's even accessible from a Roku box), which you can set up to HD playback. Downloadable MP4 files are offered for all members, and there is only a hard limit of 200 videos per day. But that's not something you would reach too many times, so we can say there is no actual limitation.
Models & Video Quality
These girls are gorgeous, big, and they have a lot to hold on to during sex. We were amazed to see how agile they are, and those who think that BBWs are sloppy, are totally foolish. What the BBWTime offers is really a lot: you will find here professional and semi-professional girls performing explicit and quite hard actions in front of the camera. With BBWs in focus, the BBWTime has the highest level of variety: one of the tiers of differences is the girls' weight or bigness. There several models who have only a bit of fat on them, while others have thick layers around their waist. These models will keep you hooked up, and if you are a fan of big bodies and you like to watch those bodies fucked hard, we are positive that you will love these flicks.
Another level of variety is presented by the girls' ethnicity: there aren't only Caucasians here, but also Latinas, and though you can't see on the list, there are Black girls too. Since you get the whole VideosZ collection at your disposal, you might use the site's big gender filter. This will yield over 1,000 videos. And it's not the number of scenes that matters: as you will see, the BBW collection is heavier than you thought because there are even big mature women too!
The videos of the BBWTime are all scenes from hardcore porn DVDs. These footages feature all kinds of hardcore sex, and there are many kinky niches covered. First, and foremost, the videos here cover BBW on BBW lesbian sex for example. But, there are many other juicy things too. For example, there are many scenes from interracial DVD series: the BBWs are riding big Black cocks, and in many cases, they have to handle more than one. As you might expect from the BBWTime, the videos are all hot and sexy, and the level of hardcore-ness is pretty high. As we have mentioned before, there are older BBWs too: they get gangbanged or just banged, and these nasty grannies seem to enjoy having a hard cock in their juicy pussy. We have to say we were quite surprised to see how far these BBWs had fallen. They take on the large cock, they eat man-meat for breakfast, and some of them even took on midgets too: it is like a David and Goliath story, only in these videos the Goliath gets banged from behind… and it's a girl!
Final Resume
The BBWTime has a significant and certainly interesting hardcore porn collection for you to watch. When it comes to juicy hardcore sex with big sexy ladies, this porn site has a whole lot of hardcore stuff for you. We really enjoyed watching these scenes, and though some may frown on this, BBW porn is quite exciting. Also, the number of extra porn you get is significant, and if you know what's good, you won't hesitate much!

… or check these awesome porn review sites for further info about this one.
| Review Site | Evalutation | Trial Price | Monthly Price | Yearly Price |
| --- | --- | --- | --- | --- |
| Premiumpornsites.com | 67.00 |  $1.00 |  $29.95 |  N/A |
---