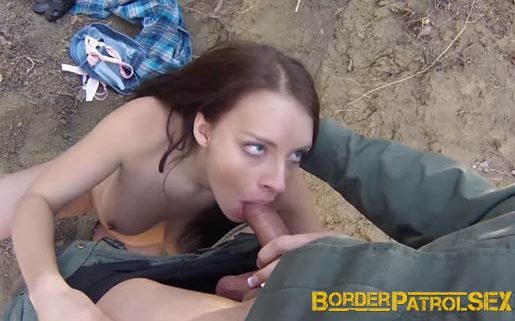 Intro
Some people will do anything to achieve the American Dream, anything! And that includes hardcore fucking in the middle of the desert. Agents Smith and Martinez are here to protect the border and fuck every hole out of these delicious slutty trespassers. These girls broke the law so they must pay for it dearly.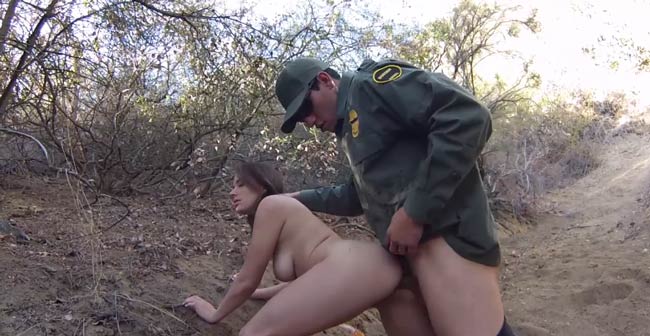 Website Layout
This is the premise of BorderPatrolSex, and it is a good one. Just by entering the site you can see what it is all about. Columns of stills showing beautiful girls getting fucked in order to pass the border are layout in columns front top to bottom. Three pages of stills are there just for you. Everything is pretty simple to find and use which is a plus after seeing so many sites cluttered with disorganized images and buttons that get you nowhere.
On mobiles devices, the site presentation is even better everything has optimized for it and it feels responsive and fast. It even shows a little more info on the videos than the desktop version of the site. There is still a lot of space for improvement, a couple trailers here and there and maybe some gifs or videos would make the site an even more impressive place to visit. Still, the site is functional and easy to use and those are obviously good points.
Models & Video Quality
From your first visit, it is clear that these are some of the most beautiful criminals on the planet. The girls are pretty with beautiful soft tight bodies and most of them carry this look on their faces that says that they are not as angelical as they seem to be. Once our hard working agents Smith and Martinez put hands at work, these girls cannot help but throw themselves to the pleasure of being fucked by a hard cock in the middle of the desert. The girls also come from a different background so you will not only find Latinas but also European girls getting fucked and trying not to get deported in the process.
All videos are in HD, the full HD resolution allows you to see every detail of the scenes. Most of them are shot outdoor which adds some level of realism to the whole premise and makes the videos a little bit more special. The desert is a perfect place to shot scenes like these but the weather and heat sometimes can stop a scene from reaching its full visual potential. Lightning could be better but on an outdoor shooting is understandable that some elements of the production can fall out the hands of the producers.
The videos also display some really nice running times. Most of them run at an average 30 minutes, so you can be sure that you will get enough material for your money. Sadly, apart from the stills on the main page BorderSexPatrol does not seem to offer any galleries, just videos. These videos can be downloaded into your hard drive or streamed directly from the web site. The streaming is very good and image quality is not lost in the process.
BorderPatrolSex also offers Bi-weekly updates and at least 12000 bonus DVDs. That is a lot of material for your money. There 3 different membership plans and all of them are very affordable. You can even take the 2-Day trial if you are still not sure about it.
Final Resume
BorderPatrolSex offers a very hot premise and definitively some amazingly hot and dirty girls willing to do anything to cross the border. The girls here are the main attraction and they are quality girls indeed. Give it a go!

… or check these awesome porn review sites for further info about this one.
---