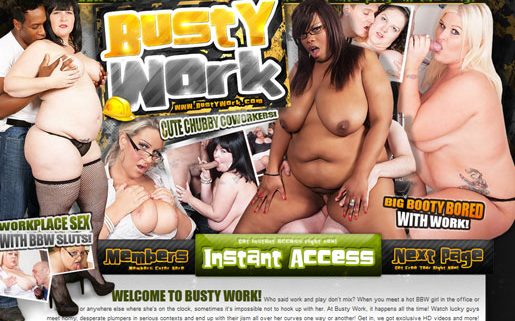 Intro
Who says fat sluts can't rock your world? If you can see chubby girls making the most of the dance floor, who says they can't do the same in the porn industry? There are a lot of men and women who have a fetish for plump partners, after all. If you are one of them, then you better search for the best BBW porn website on the Internet. One great recommendation is the BustyWork porn website. This website, which has been launched last 2012, is aimed at people who want to fulfill their fetish of getting it on with fat horny hotties in any "workplace" situation imaginable. The said site was launched to be a part of a network of BBW sites together with BBPickup and BBWSecret. In BustyWork, you will be the witness to workplace affairs – bosses seducing their amateur IT technicians or plumbers feeling up and eventually fucking their client. There are even salesmen who finally bag a sale after having sex with the person they are selling their product to. You can enjoy these workplace sex scenes with big breasted women if you go to BustyWork for your porn needs.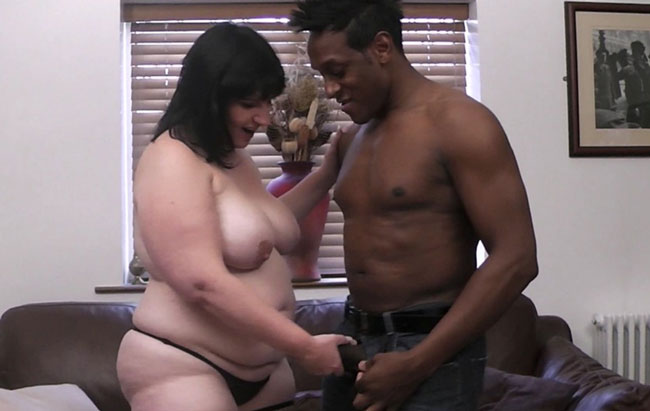 Website Layout
Just like any other porn website, you will be greeted by horny and lustful women just by accessing BustyWork. You will immediately see naked women with a cock in their mouth if you visit the site. You can access the site as a member if you have paid your subscription, or you can browse around as a guest. Even as a guest, you can see some high definition exclusive videos. The highest quality is usually at 1920×1080 WMV file while the lowest quality plays at 768×432. These videos usually go up to as much as half an hour in length. You can either stream or download these videos. You can even choose which format you want to download the videos with. The photos, which are scene stills from actual videos, are of high resolution as well. These photos can be downloaded in a zip file too. No need to download them one by one then as you can just download them all in one click. If you want to show that you liked a certain video, you can upvote it too. It should be easy for you to determine what the videos is about not only with the scene stills showcased right at the front but also through the summary posted under the videos. If you want, you may also leave a comment on what you think about the video. Unlike the other websites though that clearly labels "NEXT" or "Page 1" on the website to direct you where you should click if you want to see more exclusive videos, you'll have to click on the "Next Page" for a tour of the site. It is located at an inconspicuous place so some people might not immediately find this button. There is also no search tools or browse options for the videos so you may have a tough time finding specific videos.
Models & Video Quality
The main point of the videos at BustyWork is showcasing big bootied women who are bored with their work. The location of most of the videos is in the office, as clearly seen with the office desks, computers, and other office stuff in the set. However, the location can sometimes change to a bar, shop, malls, or anywhere else where women are working. They may be the boss of the workplace or a mere subordinate – no male will leave them alone. The videos will eventually end up in some great fucking. There is amazing kinky sex while on the job showcased in the porn videos. You won't ever get bored watching one video to another simply because the story lines are always engaging and varied. You can use these porn videos to fuel your imagination for your supersized women-at-work fetish. In the videos, you'll get to see cute chubby hotties or horny BBW ladies who will show you the best hardcore BBW sex you only imagined in your dreams. One example of the video worth watching in Busty Work has entitled "BBW Boss Meets a Candidate for a Job". This video stars Cookie, who acts as the boss of where the guy is applying to. Upon seeing Cookie, the guy ends up pitching a tent which, of course, doesn't escape Cookie's eyes. You know what happens next right? Both Cookie and the guy strips naked and have some great sex. Let's say you want some tittie fuck. A recommended video for you would be "Mean BBW Boss Takes Advantage of a Guy" then. In this video, you will see mean slut Dylan reprimanding her subordinate who has been showing poor performance the past days. Instead of firing or suspending the guy, though, Dylan does it her way. For Dylan, there is no better method to motivate a subordinate but to give him a tittie fuck, right? She'll drown the guy in her boob flesh until he can no longer hold back his cum. There are no better BBW hookup stories in any other place than BustyWork! This is especially so if you have wild, hot big boobied women like Sindy, Bibi, Rebecca, Shanice, and a whole lot more to make you ejaculate! Other videos you should watch include "Black BBW Masseuse Makes Sure the Ending is Happy", "Bored BBW Bouncer and a Guy Without a Pass", "BBW Housekeeper Takes Care of a Boner", and "BBW Singer Fucks for Part in a Show".
Final Resume
While there are too many amazing features in this porn website that can appeal to your fetish of horny ladies at work with supersized breasts, you have to consider the fact that there is still a limited amount of video content on the site. Other than that, there is nothing else that you would want to complain about in BustyWork. You can enjoy the high quality, reality-like videos and images every night. If you are looking for a BBW porn website showcasing busty, horny ladies in a workplace situation, then BustyWork is the best place to be for you.
"The website is no longer updated. Take a look at the best BBW porn sites."