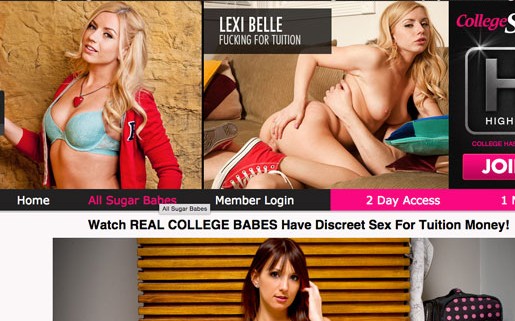 Overview
Maybe it's just an urban legend, but they say that there are a large number of chicks who are attending parties, galas and dinners with older men, as their consort or attendant, and they get gifts and tuition money for their services. Most claims that it's a kind of prostitution, since the girls are not just consort the men, but they have sex with them too. The CollegeSugarbabes website is built around the relationship of sugar daddies and their sugar-girls. There are lots of scenes on the site, shot in high quality and featuring stunning chicks performing various sexual services for their sugar daddy. The site is a stand-alone portal of the NaughtyAmerica network, which means that when you become a member on this site, you can access only the content of CollegeSugarbabes. But since NaughtyAmerica is one of the largest online porn studio, you can expect excellent quality and gorgeous girls. All men has a dream, or fantasy that involves situations and sexual encounters with someone they can't even touch. NaughtyAmerica is focusing on these fantasies, and they endeavor to make it real, so they made many porn series with titles like MyFirstSexTeacher, MySistersHotFriend or NaughtyWeddings. The studio produces reality porn, which is a special niche: it means that there are real life-like situations that turn into sex at one point. The scenes are scripted and all those appearing are professional porn stars. There are some other NaughtyAmerica sites that are stand-alone pages, like TonightsGirlfriend, where you can watch busty porn stars performing in scenes presenting one-night stands. There is also a site named PerfectFuckingStrangers, where you can watch random (yet scripted) intercourses of people who never met before (they are all porn stars too). Though these sites, including CollegeSugarbabes are not giving you access to the whole alternate reality of NaughtyAmerica, but the length of the scenes and the sharp 1080p HD quality will completely make up to it.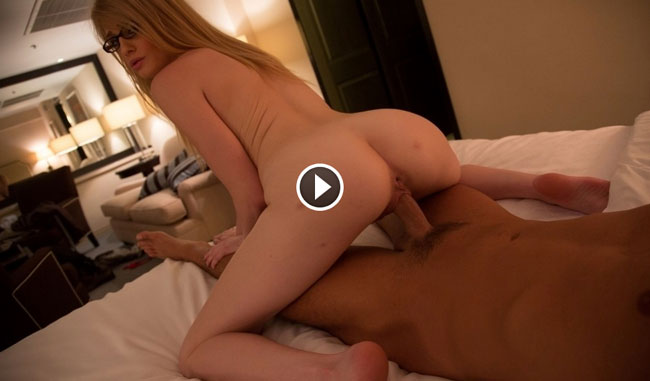 Design & Features
As you would expect from a site with a professional company behind its back, the design and layout of the CollegeSugarbabes is modern and easy to use. The layout is different from the other NaughtyAmerica sites, but not so much that the navigation would cause any problems. The tour page is clear and simple. There is a large thumbnail functioning as a main heading, and also it's a link to a video. Above it you can see the menu, which you can use to get back home, list all girls of the site and log in. There are two buttons for joining, one will pre-check the 2 day trial, and the other is for 1 month subscription. The rest of the tour page consists of good quality thumbnails of the videos you can find inside the membership area. If you are a member you get access to the videos and the picture sets that are coming with each scene. The videos are available in 1080p High-Definition. The playback quality is excellent, the picture is sharp and clear. You can view the flicks in your browser, in the Flash-based embedded player, and that is your only option, but the stream is fast and stable, you won't encounter much loading and lagging. If you have slower internet connection or weaker machine, you can adjust the quality for better experience. The picture gallery contains video captures, screenshots, you won't find posing photos inside. Another thing that comes with your membership is the full compatibility with portable devices, you can enjoy all scenes in high quality on your tablet or mobile phone. The represented niche is hard to describe, since there is no actual niche in focus on this site. It concentrates on an existing topic: sugar daddies and their relationship with the chosen girl. (There are sugar daddy dating sites, where hot cuties are really offering different services for money, not necessarily sexual services). NaughtyAmerica has given a twist into the story with the sex, but that's what men think about this kind of relationship, isn't it?
Girls & Videos
Ah, the girls. Now you need to know that the chicks are not exactly CollegeSugarBabes, as you would expect from the site's name. They are all gorgeous, fantastic porn stars. However, if you think that you will watch another bunch of hardcore scenes with fake queens, you are wrong. The videos might contain some hardcore stuff, but most of the girls are naturals. Those who made the videos, made the right choices during the castings with 99 percent of the girls. When you just take the tour, and take a look on the thumbnails, at first look you could think that these are real coeds. They are fresh, they have natural bodies, with nice round tits and great asses. There are stunning blondes, cute brunettes and some beautiful black haired girls, and most of them are Caucasians. There are nearly 30 scenes on the site, and though the quantity may not that large, the quality and the length will make you up for it. All scenes are shot in theatre quality 1080p HD with excellent lighting and sound. All videos are close to the 60 minutes mark, so you don't need to worry that you get only three or four hours of content your membership fee. There is a lot happening on the screen, all scenes are scripted and they have a strict storyline to follow, but you can always jump to your favorite part if you want to. There is sucking (even deepthroat sucking) pussy fucking and you might find some anal action too.

Back to the best pay porn sites or check these awesome porn review sites for further info about this one.
| Review Site | Evalutation | Trial Price | Monthly Price | Yearly Price |
| --- | --- | --- | --- | --- |
| | | | | |
| | | | | |
| | | | | |
---