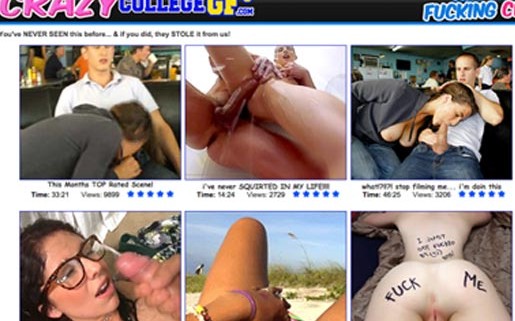 Overview
CrazyCollegeGFs is a site dedicated to sex in that special time when girls leave home for the first time and get to decide for themselves what they want to do for fun. It showcases fresh chicks at their most adorable who are hungry for that which they lack to be thrust into any one of their yearning orifices. This is a site that has all the elements of a user-submitted amateur site, excited girls showing the world what they love to do in private, with all the elements of a professional site, incredibly sharp HD movies that are expertly shot. It's the best of both worlds and that makes it one of the best in this super-sexy genre. The site prides itself on the exclusiveness of their content; in fact they say that if you've seen one of their movies elsewhere, it's because the 'elsewhere' stole it from them. One final feature that appeals to me, anyhow, is the site doesn't carry ads because members' dues cover all the costs. CrazyCollegeGFs is a member of the SnapLeaks network and membership in any one of the six network sites gets you access to the other. To help you decide if this is an offer you can't refuse, here are some of the other SnapLeaks' sites; 'CrazyAsianGFs', with its collection of Asian cuties demonstrating that demure as they may look, they're as horny as any Western girl, 'GFRevenge' where angry exes send in sex movies they made when they and their girlfriend were an item and want now to make public to the world, 'DareDorm', which is a site with a similar theme to CrazyCollegeGFs but with the added excitement of daring behavior, 'BlackGFs', which brings in the theme of interracial sex, which is pretty hot right now, and 'Horny Birds' where women act out their fantasies with willing partners.
Design & Features
The site's layout couldn't be simpler. It barely has a header but what there is filled with the site name and tagline, a Member Login, and a Join Now link. That's it. Below this are over 100 images, movie clips and Gifs linked to their movies. Members can watch the movies; casual visitors are taken to the registration form. The footer contains a horizontal menu bar of page numbers, button to take you to the sin up page, and the administration pages of CrazyCollegeGFs, such as Customer Support. The page is designed for user-friendliness at it is certainly the easiest I've seen in a long time. Fresh chicks are always a big part of the porn world so CrazyCollegeGFs is up against stiff competition, if you'll pardon the pun. As well, education-related themes are also popular erotic themes, they remind all of us of happier times, perhaps. Bringing the two together makes for a powerful combination, particularly if the erotica accurately reflects the place, time of life, and feelings we all remember. CrazyCollegeGFs does all of that perfectly. The girls look right, the sets or locations are spot on, and the playful naughtiness the movies show us are exactly how it was, and is. In a very good, crowded niche, this site stands proudly erect, head and shoulders above the rest.
Girls & Videos
The girls from CrazyCollegeGFs look so sexy and they are always horny. You can find slim girls with perky tits or beauties with some huge breasts and big beautiful asses. Redheads, blondes or brunettes they all have fit bodies, long legs and a great sexual appetite. All of them love to suck a big cock, they will never say now to anal sex, they have a passion for hot sex parties and they will always let you to give them a huge facial on their sweet faces. White chicks, ebony, Latina or Asian girls will make you so hard because that's one thing that they know how to do! These girls fuck in public places, like bars, sport fields, classrooms, and cars or in their bedrooms. As long as they get fucked it's never important that others can see them! Some chicks have no limit regarding sex. In one great clip from CrazyCollegeGFs you can see a beautiful brunette going to a bar with guy. The bar is almost full and the sexy chick wants a cocktail, and after that another one. Seeing her so happy after emptying the glasses the guy dares her to show him his tits. The chick is already excited so she unzips her shirt and shows the guy some magnificent breast. Seeing that the slut wants to play he asks her to give him a hand job while having another cocktail. The beautiful women is excited about that so she starts playing with his big dick under the table, carefully so nobody will see what they are doing. The boy has another dare so she asks the girl to pretend that she dropped something and suck his cock. The brunette whore does that an in seconds she gives him the best blowjob he ever had in his life. The girl shows him that she has some amazing deepthroating skills and suck in his cock like there is no tomorrow. After a few minutes of fun the guy feels he is close and starts cumming in that sweet mouth. The girl swallows everything like a nice girl and then smiles rousingly with some drops of sperm on her mouth. On CrazyCollegeGFs you can see a lot of great clips like this one!