Intro
CzechAV is offering the entire collection of all its 28 sites on a single platform. When you want to switch between the collections of this network, you won't have to leave one site and log into another. Just select the name of the collection from the left side menu and all the movies of that collection will be displayed in upload date order.
The site is no featuring any special browsing tools. The advanced search function is missing, there is no tagging system, and no sorting options are available. Also, the movies are not titled with suggestive keywords, just standard names and order numbers. The streaming is just as simple as the site itself. You will watch the movies in a basic player with no filmstrip, rating buttons or any other extra options.
Although it has one of the simplest interfaces in the mainstream porn, CzechAV is loading fast, there are no buffering problems, all videos are available and it's guaranteed that it won't affect your device. Talking about devices, you will be able to access CzechAV from both computer and mobile devices, which makes its collection accessible anywhere you are.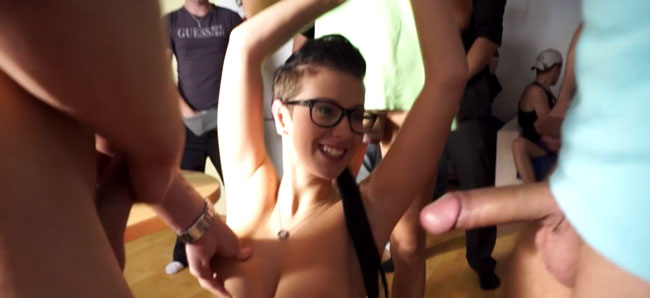 Website Layout
All videos and galleries are exclusive to the site. Everything was directed by Czech porn producers, and the productions are only featuring Czech ladies. The dialogue is in Czech, with En subtitles, except a couple movies in which the ladies are speaking a broken English with a cute accent. The largest collection of the CzechAV network is Czech Casting, which represents about 50% of the total porn put at your disposal by this collection.
Overall, the 28 sites of this network are putting together a total collection of 2,600+ movies from various themes. The top 5 porn sites on this network are Czech Casting, Czech Gangbang, Czech Amateurs, Czech Cabins and Czech Mega Swingers. The videos of this network come with lengths between 15 minutes and 60+ minutes, and about half of them come with galleries that are mostly featuring screen caps, but some also include real photos.
Everything on this network is available for download, with no limits and in multiple formats. The streaming is done in a single format, and you won't be able to change the resolution of the videos. The galleries can't be downloaded as Zip sets.Pornstars
Models & Video Quality
The models of this network are not pornstars in the true meaning of the term. Most of the chicks on this site are everyday girls who are willing to get fucked in front of the camera, mostly for the quick cash they can make. However, there are some chicks and some couples who are shooting for CzechAV just for the thrills of being featured on a porn sites. Other chicks are just there for the sex parties.
For the Czech Gangbang collection, the network is organizing home orgies. Everyone is welcomed for free, as long as they agree to let themselves filmed for the purpose of featuring the videos on this site. Another interesting aspect of this network when it comes to pornstars comes from Czech Casting, which has one of the most interesting mode index pages that I've ever seen.
On this site, you can browse all the chicks, and each of them has a 360 photo of her body, in which you can see all parts of her natural beauty. Also, you can find out more about the chicks, like their job. Most of the amateurs of this collection are nurses, shop assistants, babysitters and even homemakers.
Final Resume
Becoming a member of CzechAV is worth it. Besides the high-quality amateur content of CzechAV, the network is also offering a lot of content. So it's no wonder that the site has so many fans. With such a large fan base, the site could easily create an adult community, just by enabling the comment section and maybe introduce a forum. So far, you can just join this network and enjoy the awesome porn they have to offer.
For a month of so much hardcore amateur porn, you will only pay $29.95. For the three months option, you'll have to pay $64.95, and for the six months one, the price is $99.95. Both the monthly and the three-month memberships are recurring, meaning that after every period, your membership will be automatically renewed, and you will be charged unless you cancel that manually. The six months membership will not recur automatically. Each of these memberships offers full access on the entire network and unlimited download.
The site is not featuring any trial memberships to give you an insight of the collection, but trust me when I say that you won't find any other source of amateur porn as awesome as CzechAV.

… or check these awesome porn review sites for further info about this one.
---