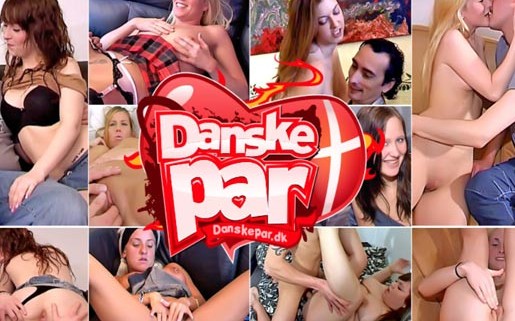 Intro
Danish girls are not ones to shy away from a rolling camera. Danske Par is a porn site that affirms this by bringing you many fresh-faced girls from Denmark who are ready to 'play'. This is not a porn site where the girls have sex just for the sake of pleasure. Instead, it is a collection of real couples who are making sex tapes.
Danske Par offers a sexy premise that would meet all your sexual needs like no other site would. Different men have different sexual desires and Danish beauties may be very appealing for a select few. Maybe it's their gorgeous faces or long hair that effortlessly swishes back and forth when they move. Either way, they have a full bag of tricks. Membership of this site will earn you access to 11 bonus site that will also treat you to exclusive content of a mixture of models getting down and dirty.
Under the SJGP Network, Danske Par will offer you a good number of movies and images to keep you quite busy. Even though the content is scarce, the movies are sufficient enough to get your sex life back on track. The way these girls dish out their pussies will let you know exactly why they have taken over adult entertainment.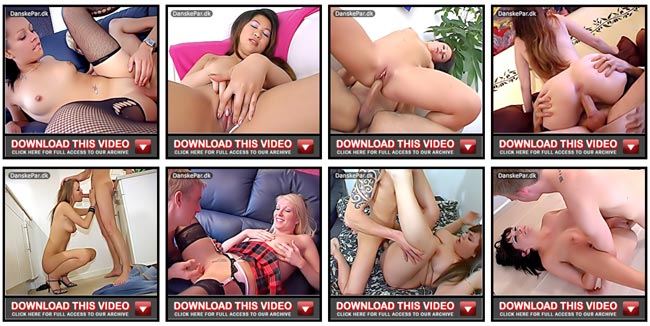 Website Layout
Copulation is the main focus of this breakthrough site. There are many images of the models having sexual encounters that will welcome you to the site. The models delightfully enjoy the biggest dicks in their mouth and the best tongue licking scenarios inside their vaginas. This is not even half of what Danske Par has in store for you. When the site was launched, there was only one movie episode to enjoy; however, it has grown to 22+ movies. The update schedule is not that frequent here, but the amount of content will make you happily oblige. The member's area is one that is really simple. This makes navigation equally simple. The sex scenes are systematically arranged on the page from the newest to the oldest.
You don't have to worry about your lack of understanding of the Danish Language; the website automatically translates in English as soon as you log in. However, you should not expect too much from the texts. After all, Danish are not American natives. There may be a lack of many extras that come with membership but the site is equipped with thumbnail preview that will improve your user experience. Each scene also has a description that goes with it. They are also coupled with links that will lead you to the sexy galleries where you should brace yourself for even more action. The site gives you an amazing mix of Danish deliciousness that will offer you enjoyment every time.
Models & Video Quality
There aren't any deserving words that can well describe the models on Danske Par. Needless to say, they are beautiful Danish girls that will steal your heart at first glance. Most of them are new faces especially due to the theme that the site embraces; couples having sex. Their bodies are well toned and they boast of big or medium breasts and curvy hips. This means that the site is inevitably a g0-to place for many men. The site has made sure that it houses all of the gorgeous Danish models under than one roof to make it your one stop shop for all the stimulating action.
Some of the models are porn stars who are well known around the Danish community. They are not camera shy amateurs who are caught off guard. On the contrary, they know exactly what is expected of them when the camera rolls. Only the best parts of their sexy bodies are displayed for you to watch. The common area of focus on the site is the breasts, the big asses and the pussies. You will certainly get good bang for your buck as you also indulge in the action. The movie preview on the site is a representation of what is in store for you. There are no catchy titles but it is easy to tell all the movies apart. Not only do all of them feature a sexy model but they have also been shot in the most outstanding locations. Since many of the models names are in Danish, they may be a little hard to remember but their faces are very hard to forget. All the pussies need to be wet in order for the big cocks to slide effortlessly inside them.
The movies are best watched when you have a lot of time to spare. There are a good number of movies and images that can be found all over the site. Danske Par is doing a good job of growing steadily over the years. Forget quantity, the high quality content will make you forget where you are. The movies can be downloaded in WMV format. There are full-length download options and those that will enable you to go for shorter clips. The movies will play on any browser and there are no restrictions as to the allowed number of download. Danske Par has a really interesting twist of interviewing the models before they get engrossed in the action.
Final Resume
The movies may not be over the top but they will give you the satisfaction that you are looking for. The site is really easy on the eyes; providing you with an outlook on Danish sex like you have never seen before. The movies may be a little on the lower side but they are just enough to awaken those lost sexual feelings that you may have forgotten about. Even so, Danske Par has a very promising future. Unlike many other sites, this one is promising and will remain grounded for a long time.

… or check these awesome porn review sites for further info about this one.
---