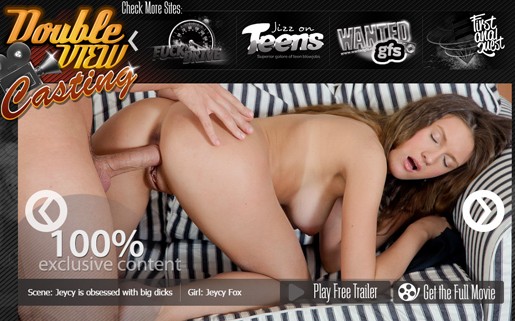 Intro
Ladies and gentlemen, boys and girls (adults, of course!), pervs, freaks, geeks and all the rest of you fun people out there, today we are exploring the wonderful world of DoubleViewCasting!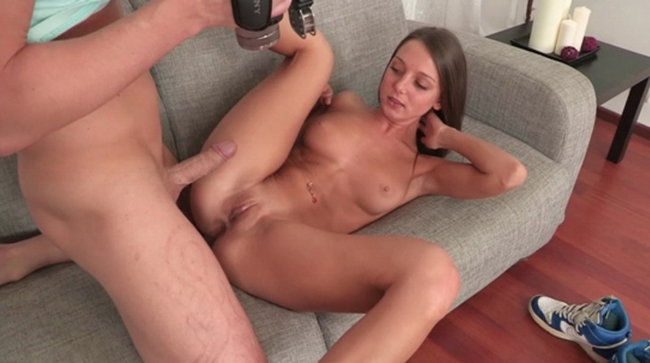 Website Layout
DoubleViewCasting is a type of casting couch site, hot models with cute little bodies dipping their collective toe in the world of porn in the hopes that it will lead to a career of fame, fortune and taking dick for money on a regular basis, however what sets DoubleViewCasting apart from the rest (as if the name wasn't enough of a give away) is the fact that unlike plain POV casting videos or main camera videos, these videos are shot with two cameras at the same time from two different perspectives, and the viewer gets to choose how he (or she – ladies like their porn too!) can watch his sweet little chick of choice gets fucked.
The website is mobile friendly and optimized for use on any mobile device, without any noticeable technical issues. Navigation through the website is made simple and easy to find anything you like, by sorting and searching. The design and layout will provide visitors with an enjoyable environment.
Models & Video Quality
If you, like a lot of people, like to imagine yourself as the lucky stud who gets to stick his dick in a tight pussy hole while she's doing her best to ace her audition, you can go for the POV option but we all know that sometimes with POV porn the view is obscured but that's alright! That's where the "double view" comes into play! You can switch the view from POV to main camera view and go back over the scene you missed so you can enjoy it properly.
The main camera view is shot with a wide angle view to make sure you get all the details and it is most definitely worth mentioning that ALL the videos are shot in HD and the photographs are of an impeccable quality so obviously DoubleViewCasting are anything but a bunch of amateurs and the good people at the production company care about the quality of the videos you're getting.
The website has over 90 videos of approximately 25 minutes each, complete with their own galleries of photographs of about 110 photographs per set and all videos are available for download to paying members in both the POV and the main camera formats. The downloaded videos are also in HD format so none of the amazing quality of the footage is lost and you also don't have to worry about how the video will perform on a mobile device. As an added bonus, a lot of the videos actually come with formats for mobile devices already.
The photographs appear quite miniature on the website, but you get a set of large, high-resolution images compressed into a .zip file when you download them.
Models are aged between 19 and 23, primarily Eastern European girls with tight little hot bodies and willingness to do whatever it takes to get the job, even if it means taking their co-star's meaty throbbing cock up the ass all the way while keeping a picture perfect smile!
Final Resume
If you don't particularly enjoy a lot of anal scenes, ass gaping and completely shaved pussies, then maybe this site isn't for you but, however if the thought of smooth, tight bodied ingénues having their assholes fucked and gaped in the hopes of landing a job gets you hard then you will absolutely fucking LOVE this website and the added benefit of being able to choose between POV and main camera view and HD definition is a definite plus!