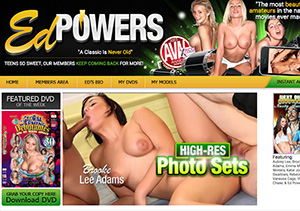 Overview
The EdPowers is a hardcore porn site, where you can enjoy the videos from Ed Powers, one of the kings of amateur porn. This guy knows something because he gets any girl he wants, but he certainly doesn't have the look for it. Ed Powers have been in business for a long time, and this site is his official page, where you can find lots of his videos, and due to the regular updates you can always find something new here. If you like hardcore porn, with a spice that adds that amateur feeling to it that turns on lots of guys, then you might find the videos of Mr. Powers to be utterly satisfying. The site is newly started, but the collection is rather large, since this page continues the track that the older version started. All videos on this page are exclusive, and you won't be able to find them anywhere else. The EdPowers's collection is pretty large and it's alone is enough to keep you busy for a while, and you will certainly have some fun watching them.
Design & Features
The tour page of the EdPowers is simple and it looks pretty good, but it doesn't offer you too much in tour mode. You will get a weird feeling like you have travelled back in time to the early 2000s, but in difference with the old sites, this one is available on mobile devices too, so you will be able to browse the collection from your mobile or tablet. The tour offers you only the option to browse through the content, but there are no actual trailers or anything like that, so you need to rely on your instincts. The member's area is simple, and you will find it to be a bit familiar, there are some other amateur-focused sites using this template. The top of the page features the heading and the main menu. This menu is you gateway to the deepest corners of the collection. You can reach the videos, the photos and the DVDs from here, along with audio files, live cams and a few more extras. For navigation an advanced search engine is provided. Each scene is playable via an embedded player, which offers a good alternative for those who don't prefer downloading. For saving, the site grants you mostly MP4 files, though the older scenes might have other formats like WMV and MOV. The resolution is SD, so the files won't take too much hard drive space. As for the photos, you will find some high resolution pictures among the galleries, though the number of sets is far below the number of scenes. However those that are featured on the site are well worth checking, and if you like them, you may save them in a Zip folder, and anytime you want.
Girls & Videos
The models of the EdPowers are all gorgeous amateur girls, and some of them even became real pornstars, whom name might ring the bell. The series, called DirtyDebutantes introduced new actress to the porn industry, Katie Morgan's first porn movie ever shot was a DirtyDebutantes scenes. Among the hot and successful pornstars who started their career with Ed Powers you can find names such as Leanni Lei, Aurora Snow, and Sunrise Adams; and we could mention Jaime Foxworth, who runs by the stage-name of Crave (she is best known as a star of Family Matters). Most of the videos that you can find on this site feature some really stunning cuties who are usually still in their first two decades of their life. They all look good and though there might some semi-professionals among them, you will see that most of the times they are real amateurs, with gorgeous, natural bodies, that will guaranteed to be really satisfying for your horny needs. Ed Powers aren't only working with Caucasian cuties, thus your lust for interracial porn will also be satisfied, because you will find really hot Black girls too, mostly featuring in the Black-focused DirtyDebutantes series, but Asians, Latinas also appear. In many videos, Ed Powers make an appearance, and many times he does the nasty with the cuties, and many scenes are shot from his point of view, if you see him naked, you will certainly understand why it's so surprising that he made such a big career in the industry. The videos here are not scripted, though they were organized. You won't see here fake innocence or surprise when the girls have to get naked, and do the nasty with either Powers or other male performers. There is some talking in the beginning on the scenes, but they get it on pretty soon, and if you like videos that are professional, but still have that feeling that brings them closer to the home porn, then these scenes will certainly satisfy you. The largest part of the videos here feature one on one sex, while you will find here threesomes of both kind, and since lesbians are always popular, many lesbian scenes are featured. The video quality is normal, but the scenes are long enough to be satisfying, and you will certainly appreciate them if you like this porn type. The EdPowers currently offers more than 900 scenes for you, most of them feature different girls, and at this time, there are circa 700-800 unique models doing the nasty on the screen.
Conclusion
The EdPowers is a bit weird, mostly because the technical attributes aren't too modern, though it's a big bonus that it's available on mobile. The collection is rather large, you will find here about 20 years of movies, shot, directed and many times performed by EdPowers. Though the videos, and Mr. Powers himself may feel a bit outdated, if you like classic dirty porn rather than the sterile overplayed junk of nowadays, then this collection will certainly satisfy you. There are three updates per week, so it won't be long, when the scenes' count hits the 1000 mark, but until then, the EdPowers is still a recommended site for every porn lover, who have a thing for amateur cuties.