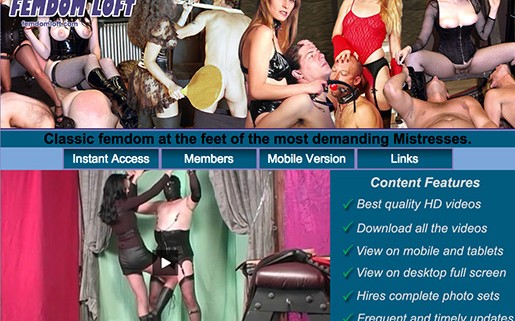 Overview
Many of us have a desire to live in a loft. The impression I have of a loft is the all party beer and keg wild socialites on rooftops. You must be walking along with me but I need you to take a turn to the left and figure out a loft in which males and females are embroiled in multiple sex orgies predominantly engaged in slavery fetish, blowjobs, caning, straddling, sensual torment, bound strap-on penetration and masturbation. Imagine living next door to such loft neighbors atop the Times Tower or some other skyward residence so you can peek at the action day and night as you recline on your sofa but the characters proceed with their sex escapades unhindered. Well, try Femdomloft.
Design and Features
If you are looking for a fetish porn site that also acts as a gateway to other fetish thriller porn platforms, then I guess you can't afford to bypass Femdomloft. Navigating the site is easy and the visuals are great. While the site is not responsive, there's a mobile version. The site does a commendable job of constantly updating its content to keep evermore curious about what is to come next. Most of the videos that I checked were in MP4 (formats that span three sub versions). Users can also access up to 140 galleries each containing up to 50 images. There are no zip sets for your download but since the pieces are not so many, you can comfortably download them step by step.
Girls and Videos
The dress-up code is what struck me at first site with the pornstars on this site. The characters constitute both males and females. It is something to behold with bated breath as the girls torment their slaves with whips and sheer posturing to submissive worship. If you love domination sex, you won't be disappointed. Pornstars are really creative on set. I didn't find anything that appeared fake. And the fact that these damsels can tame and hold men captives to gratify their sexual desires takes it even a notch higher. Although I love adventure, some of the encounters left me gaping and reassign my experience in slave porn. You will see women apply all sorts of sex slavery techniques including sticking up syringes in their captive's nips. Some tied up men with straps and then mete out their sexual vengeance with glee as the man moans in submissive pleasure. Everything is just crazy right from the anal foreplay to penetration. And where men are on top, they get back to the ladies in style. Overall, there are 368 + video scenes to savor. Scenes run for about about 20 minutes. You can stream and download videos and pics to a wide range of devices including smartphones and mobile devices. All the clips are captured professionally and presented in commendable quality. I was excited at the fact that once I subscribed to any of the plans, I would be able to download as many vids as I want without restrictions. As a member, you will enjoy several bonus sites. Some of these sites require one register for membership. I loved what some of the sites have in their stores. Such sites as Nylon Femdom and Fetish Pack gave me an impressive account of what premium porn is about.
Conclusion
Femdomloft has an impressive mix of porn content. The femdomloft themes are uniquely presented and, for me, they struck a chord. Their outlandish daring slaving preoccupation is definitely a tick for sex slavery enthusiasts like me.