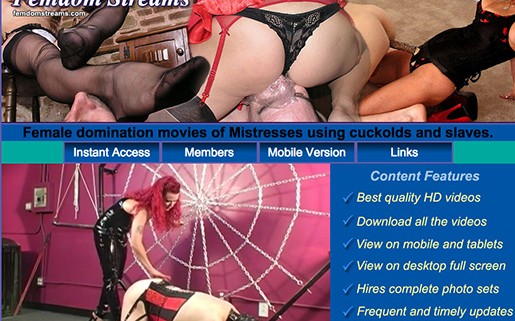 Overview
The FemdomStreams is a heavy hardcore porn site, which offers you BDSM porn videos, featuring dominating women that are completely destroying their slaves and broke his will totally. Now, before we continue, it's important to highlight: the site is a real fetish and BDSM porn site, so if you think it's not that nasty and you hope to find here regular porn with only a bit of BDSM, then you are terribly mistaken. So, if you are looking for mainstream porn with fake roughness, seek out the large studio sites, because this site takes you to the dark side of porn, and if you are not a fan of that, or you are not ready, you shouldn't even consider this site. This warning is suitable for the whole network of the FetishPack, because the FemdomStreams is part of that particular porn site-family. The FetishPack is an eight years old network, it was established in 2007, but the included sites were launched earlier; for example the FemdomStreams launched in 2001. The membership on this site also grants you a full access to the other FetishPack sites, where you can find more femdom, fetishes and transsexual porn (with BDSM elements for course). The videos of the network are semi-exclusive, because they are available on DVDs, though they weren't published online until they were uploaded to these sites.
Design & Features
The design of the FemdomStreams will give you a feeling like you are still in the earlier ages of online porn, because it's a really simple page, with lots of texts and links. The tour is easy to finish: you can enjoy some trailers on the home page, thus gather some hints about what to expect inside. Though the overall look of the site may seem a bit outdated, you should be glad, because it means that it's simple, and this is also true for the inner section, where you will find yourself in front of a bit better looking page, which offers you multiple menu options, a search engine and also some categories filtering options. As for the videos, you get the usual abilities: watch them in the members' zone, or download them to your computer. The streamed videos are in the same format as the downloadable ones: MP4 videos in standard definitions (the oldest ones have lower specs). Both options are good, because of the normal quality, the videos download really fast, and the player also loads them up pretty quickly. Most scenes have a set of pictures with them, but the number of these is lower than of the videos'. The galleries contain normal quality pictures, and they are viewable online or downloadable as a zip file. Though the site doesn't look modern, it has a fully functioning mobile version, which even looks a bit better than the desktop page. Due to the size of the videos, you can enjoy everything on your device, since they don't take up much space and doesn't buffer too much.
Girls & Videos
Don't get offended by what you are going to read ladies (if you are a lady, of course), but the women of the FemdomStreams are really mean cunts. They perform things that may look outrageous for those who don't like this kind of porn, and certainly don't like this particular fetish. So, let us take a look at them, because they might be interesting not just because they do these things, but because they seem to really like it. Many of the models of the FemdomStreams are really hot pieces, and though they act really nasty it's certain that you would like to be used by them, just for the chance of one of them sucking your cock during the process. It's not easy to depict the origin of the girls, because some videos are in English which means that they are either US based movies, or they were shot in a country where the porn actors speak English. Another part of scenes are in their original language, so they are probably coming from Europe, since the models are Caucasians. It's not a big concern though because the models are seriously hot, and while some of them are fitting in the mature categories, they are hot enough to help that snake in you pant arise. The videos are stage and organized. Though they are not too long, you will certainly enjoy them, because they offer you some very nasty fetish porn. Since you are reading this, it's quite sure that you are looking for femdom porn videos, and you can be glad that you find this site, because here you will get what you need. The girls are all wearing leather or latex, and if you are turned by watching a man's manhood taken, destroyed, then you will jerk off a few times while you watch these scenes. Naturally, the guys are unable to move, and they are totally submitted to the will of their dominator, who does whatever she wants to do with them, and that includes a large number mean things. First they can suck him, or shake his cock until he almost shot his load, then they interrupt. Second, in many scenes you can see the girls using dildos or strap-ons and fucking the guys' in their ass. These videos are really only for those who like this kind of porn, and if you are one of those, then it's certain that you will go off while you watch.
Conclusion
The FemdomStreams is a real heavy hardcore porn site. Its design is simple, and the folks behind it certainly think that it's not that important. What's important is the content, and this nasty piece of porn site has a lot in store for you. With more than 500 scenes, the collection is already large, and they will keep you busy. If you manage to watch everything, you can still access a lot more content on the included network sites, or by watching the DVD movies that are granted as bonuses for your membership. The FemdomStreams is a recommended website for those who like the heavy hardcore, fetish and BDSM porn.