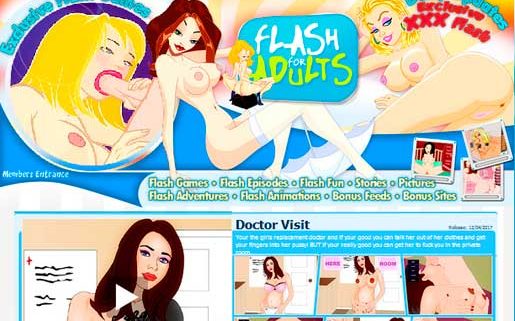 Intro
A great flash animation porn site featuring awesome animated sex games is FlashForAdults. This awesome porn site offers you an opportunity to be a part of various kinky sexual acts by providing you appropriate games to play. This awesome porn site offers you tons of bonus feeds and sites, in addition to games, stories, pictures, and adventures, all of which combine to give you a great porn experience. Stay on with this review about FlashForAdults which has been compiled for your benefit, so that you can take an informed decision.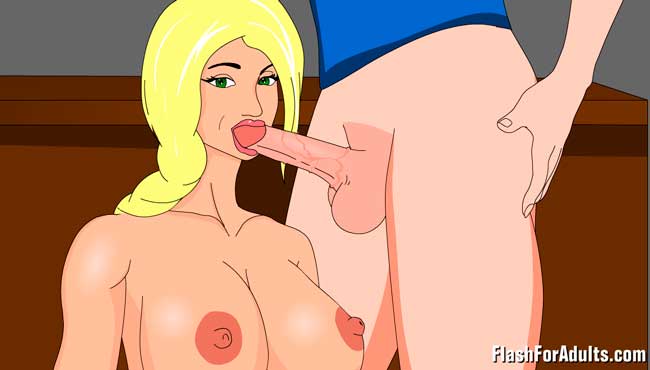 Website Layout
We fell in love with FlashForAdults when we first logged in. The site has a very simple design, and the entire focus of the site is on the flash animated games that it features. There are 10 such games on the homepage, with a couple more pages at your disposal. A couple of naked animated chicks welcome you on the header, with an animated video playing in a loop to the left. The videos are arranged one-below-the-other, in separate blocks. Each block has a trial version of the game which you can play for a minute or two. In addition, there are about 6 screenshots of the game to help you understand what you will get out of it. There is a title at the top of the block, with a brief description below it.
FlashForAdults is affordable to subscribe and to play the full games, you must become a member. Your membership gives you access to tons of bonus feeds, contents, flash games, stories, adventures and a lot more. Truly, FlashForAdults is a site worth subscribing to, and it offers you real value for money. 
Models & Video Quality
As an animated gaming site, FlashForAdults offers you sexy animated characters who can do wonders for your dicks. The sluts featured are purposely designed to be proud owners of big breasts, so that you can fondle and grope them to your satisfaction. The asses are perfectly round and spanking them is truly awesome. You can fingerfuck the sluts, or invade their assholes, or simply fuck them hard with your dick. The sluts moan and scream in ecstasy, ensuring that your jerk-off sessions reach the immense heights you've always envisaged.
Of the 10 trials that were available for us to explore, we found The New Sexatary quite interesting. Your new secretary has joined the office and is busy at work. You find her alone, tired and busy after a round of hectic work and you volunteer to give her a massage. She readily accepts your offer, and you start massaging her shoulders. She loves the feeling and requests you to give her further massages. You take her to your room, strip her and start fondling her breasts, kneading her nipples, inserting your fingers into her pink cunt, and fuck her hard in her asshole and pussy, till you shoot your white cum all over her face and breasts. 
Final Resume
FlashForAdults is a truly wonderful porn site you must have in your porn repertoire. As a member of FlashForAdults, you actively participate in finger the slut's pussy and asshole, fuck her or invade her ass, pinch or tweak her nipple, suck them hard and cum all over her. FlashForAdults is a very economical porn site and your active participation will add immense value to your insane jerk-off sessions.