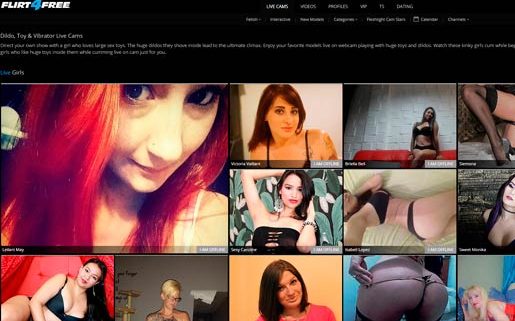 Intro
As you would expect from one of the oldest live cam show sites, the Flirt4Free actually has it all. Those who are looking for hot chicks who could be eager to shove huge dildos in their pleasure holes (vaginal and anal penetration both possible… sometimes at the same time) will find here dozens of hotties to perform for their excitement. The Flirt4Free, as a cam site that has been around for nearly 20 years, has tens of thousands of different performers logging in from throughout the world, and there is hardly any category that's not represented by at least one girl when you log in. In this review, we are going to tell you about the site itself, so you could familiarize yourself with the interface, and we will see what kind of girls perform big-dildo shows for our, and for your viewing enjoyment.
So, as it has been stated already, the Flirt4Free is old: three years from now it will turn 20 years old. Fortunately, the site is really popular, so they did not abandon it, and nowadays it's still rocking just as hard as it did back in its early days. In case you are looking for hot girls to do your bidding, you should certainly pay attention to what we are going to show you, because the models of this site will certainly get you in the mood for some live action. Basically, the Flirt4Free is a live cam site, so live shows and free chat options are available. As additional content – also known as bonuses, you can view high resolution photos of the girls, and as a member, you can access their videos: archived shows and teasing videos are yours to enjoy… for a limited time, as they are offered in a VoD format. Naturally, these videos are all exclusive.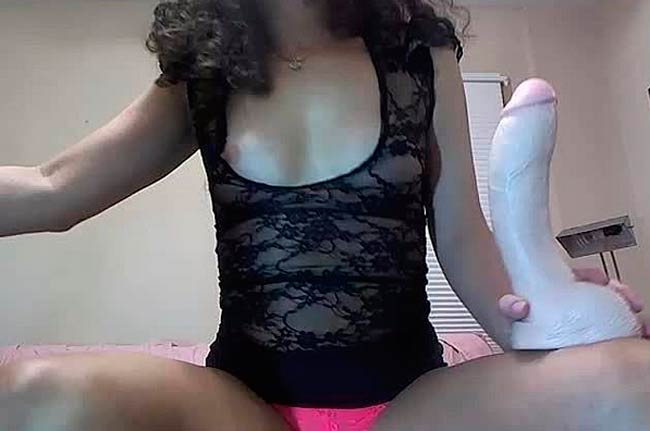 Website Layout
The home of the Flirt4Free looks modern, and if you move your mouse around, you can peek into the currently live streams to see what the girls are up to. Sometimes you might find them flashing their stuff to make men horny. The interface you see as an unregistered user is the same you get when you log in. You will find a search box on the page, and the categories selection with the indicator showing how many girls are online with that category featured is pretty good. As an extra feature, you can enjoy some videos and browse photos. Cam2Cam is possible with a few models, and they are mostly using good quality equipment.
Models & Video Quality
Let's take a look on these models: they are hot, eager and nice, that's for sure. However, they are also really varied. The best way to find a performer to host a big-dildo live show for you is to use the site's category selection tool. You can see how many girls are online for that niche. We recommend you to open the page, so you could find all those models who actually have the giant dildo niche featured in their repertoire. Those who are looking for some juicy and hard fun should try their luck with these girls, because apart from the nasty big-dildo thing, they are capable of doing much more. Since there are more than 10,000 female models at the Flirt4Free, it's nearly a hundred percent sure that you are going to find here a few who perfectly matches your needs. There are Asians, Blacks and Latina models alike, but if you prefer European or other Caucasian females, you are going to find a lot to pick from. We certainly enjoyed our time here – we tested the girls' services in a live show, and we were quite amazed. They are not just hot, but they proved to be eager to show off their skills. As far as their overall looks is concerned, you are going to find here both naturals and fakers, so that's another level of variety you can benefit from, as there are different girls to pick from.
Naturally, the shows are the most important things to see here, and they are quite spectacular. In a few cases we've found out that the girl we picked was a newcomer to this, so she was a bit shy, but she successfully overcame her anxiety and provided us with some pretty great show. Now, not every chick you see listed on the site is capable or eager to do giant dildo action for you, so you need to use to filter, and you should also ask her about her show's features. You should keep in mind that you are the boss, and you are the one who tells them what to do, and it's you who 'directs' the show – as long as you are not rude or you don't ask them to perform things they find revolting or offending. It's very easy to get in touch with the girls, and when you go private you will find out that they worth the price – most of the hosts here are professionals, and they really know what you need! As far as the giant dildo action is concerned, you are going to find here girls performing it for your entertainment, and they are not shy. 
Final Resume
The giant dildo fetish is pretty exciting on its own, and it looks great in porn videos. However, the satisfaction is even greater if there are girls who do it live for you, and it's up to you to tell them what to with it. On the Flirt4Free you can do so, and as the name tells, you can flirt for free, but for the real action you need credits, which you get a load of for free when you sign up!