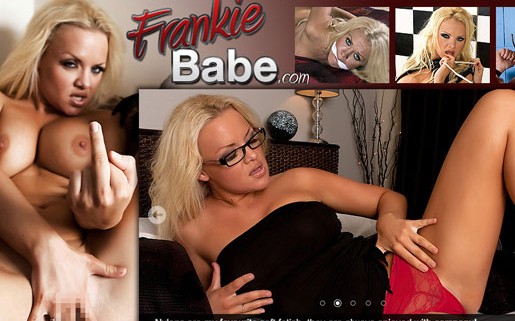 Intro
If you browse porn regularly then the name FrankieBabe must sound familiar. Yes, you are right folks; we are talking about that beautiful blonde who caught the porn industry by the scuff of its neck ever since she first appeared. This British born blonde has looks which every woman dreams to have and a figure which every man wishes to rub bodies against. She is renowned for her steamy fetish videos and her lesbian rendezvous. She is such a great performer that there are a few porn viewers who have expressed their disappointments about her focus being mainly on these two genres and not on the straight guy-girl movies. We all feel the same way as she, just like all her fetish and lesbian acts, would have excelled in that department too. However there is no point thinking about things which are not and so we are going to concentrate on what is in front of us. Frankie has her own website called the FrankieBabe and in it you will find a host of stunning HD videos featuring fetish, lesbian, BDSM and hard-core movies. Very rarely will you find a woman who is so skilled as an actor and as soon as the cameras start rolling, Frankie brings out her naughty side- probably the one we all expect her to. She starts doing all kinds of erotic things such as rubbing her gorgeous suckable tits against her sex partners. She will also be seen employing kinky sex toys, restrain kits and also seen supporting different costumes to add more intensity to her videos. The website also provides you a nice blend of solo acts or acts where girls and bound and gagged. So if are into such kinds of porn and admire Frankie for her acts, you will fall in love with the website she has in store for you. When I visited this porn portal, I found the website to be more of an American style, kind of like the ones you find in L.A. This was surprising to say the least as Frankie is a model from UK origin and when I visited her website it was one of my basic expectations. But her website design astounded me, but in a good way. I found the contents to be quite fascinating and the picture gallery to be superb. The website was full of hot fetish action and those who dig such stuff; it would prove to their wettest dreams. Frankie's giant picture right at the top of the home page had its own charm and below lies some samples of what the website offers. As I checked some of the available contents I found Frankie becoming hotter and hotter with each video. The videos also appeared to be quite good regarding its picture clarity and sound quality. Plus they were available in a number of resolutions and files types. The membership procedures were also quite simple and when I checked the subscription amounts, they were quite manageable.

Website Layout
Coming to the design of the website, there it has received a mixed bag of comments. Some say that it could have been smoother while some have praised the web designers for their wonderful job. When I visited the website, I honestly did not face any issues. All the menus were clear. The layout and the background were all quite good. But the thing which takes the cake is that mesmerizing picture of Frankie. It is as if her eyes and her body is communicating with whoever visits the website- it is as if it is calling out its name in a flirtatious manner like- "Hey wanna see something fun!" That will definitely please you the most. The website despite being the lair of a UK born model is designed like a US website- but it is making it look all the more appealing to the eyes. In order to access the website, there are some menu options at the top of the home page which will take you to any portion of the website you desire through just a single click. The website also comprises of an impressive user-interface which helps you search for the latest videos involving Frankie. The website also provides you an about me section which tells you some interesting facts about this UK bomb-shell and also gives you some of her famous movies (fetish, soft-core, lesbian and also solo acts). As for the membership option, you will have to visit the membership arena where you will find some blank spaces which need to be filled with some of your personal details. Simply fill the blank spaces with the right information and submit the request. As that is done, you will be forwarded a confirmation from the website's end and from then on your membership account will be activated. As you fill in your details, in that very page you will also find the subscription options. Simply pick the one which suits your pockets and apply for your personalized account.
Models & Video Quality
This is the fun part of the website. The action is intense and in them you will find two or three hot girls appreciating each other's beauty. The seductive mannerisms of these girls will definitely warm your hearts and harden your dicks and by the time your finish one video, you are sure to rush off to the loo to jerk off your love juice which has been waiting to set free. When I checked the website the last time, there were about 90+ videos and about 300+galleries of pictures. The videos are shot with state of the art cameras and every single detail is captured keeping you and your dicks in mind. These latest updates are in full HD while the older ones are in MP4 formats. However they still make way for good viewing. These videos can be downloaded as well as watched online via a flash media player. The pictures mirror the videos and can be downloaded altogether in one zip file. In terms of the girls Frankie is the main star of the website. Her gorgeous looks, her big breasts and her naughty enactments with some of her fetish and BDSM co-stars will definitely take you to your edge. Accompanying Frankie in her delightful videos are other popular names such as Lucy Zara and Lolly Badcock. These three girls will be seen in quite a number of videos, either individually, or with Frankie. So you know what can happen when these three sizzling girls start to do what they know best.
Final Resume
FrankieBabe is a website which has its flaws but when it comes to providing intense action, it is second to no one in the realm. They have cost-effective subscriptions and the videos are of supreme quality. The money you spend will definitely give you good quality BDSM and fetish porn action. So simply apply for membership and check out its awesome contents.

Back to the best pay porn sites or check these awesome porn review sites for further info about this one.
| Review Site | Evalutation | Trial Price | Monthly Price | Yearly Price |
| --- | --- | --- | --- | --- |
| | | | | |
| | | | | |
| | | | | |
---