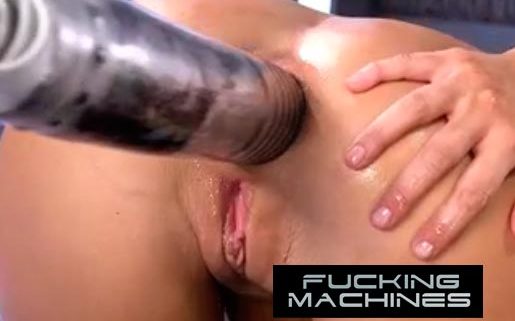 Intro
Are you ready for the future? Have you ever encountered a lady with a pussy so wide that you are not overestimating in thinking that two cocks could even fit inside? Personally, I don't know if they're fortunate for having such a pussy because how would they even enjoy having a go with mere mortal men like us? Sure, we could feel emasculated at one point, thinking that we're not big enough to fill the need, but hey, if you really think about it – there is no reason to feel as such. These ladies, they are just larger than life. And what they need is the fucking of the future. You might be wondering what we are talking about already. Well, we are actually going to feature a porn site that is kinda related to what we are currently talking about today. It is futuristic, and it can most certainly cater to the type of pussies that we have mentioned a while ago.
First, let us begin with the porn site's name because it already tells us so much about the site itself. The porn site is called FuckingMachines. You might have thought of robots or other techie stuff before we have mentioned the name and we would not blame you. In a way, this is not incorrect as well, since the porn site does feature really big machines that could very well be a giant robotic arm; and in the receiving end, dripping wet pussies begging to get pounded by these different mechanical implements.
The porn site FuckingMachines is actually part of the prestigious Kink porn network. This adult porn network has been known for their solid name in the fetish line of the industry of porn. We are not totally surprised. If there was an adult network who is going to create a fucking awesome porn site like FuckingMachines – it's Kink! They have more porn sites within their network that you would love to explore. Their porn sites are actually divided into five main parts. These are the main Kink sites (these include Behind Kink, their porn site that features everything related to their "behind the scenes" and Armory Studios, where you could buy tickets and tour their world famous studio!), BDSM (you'll find the sites Hardcore Gangbang, Public Disgrace, and other equally stimulating sites here), Fetish (the category which FuckingMachines is included), Gay (Bound Gods and Butt Machine Boys might be some of the porn sites that you would enjoy taking a look at as well), and finally Femdom (where you will find the toughest ladies on porn starring in porn sites like MenInPain and Wired Pussy).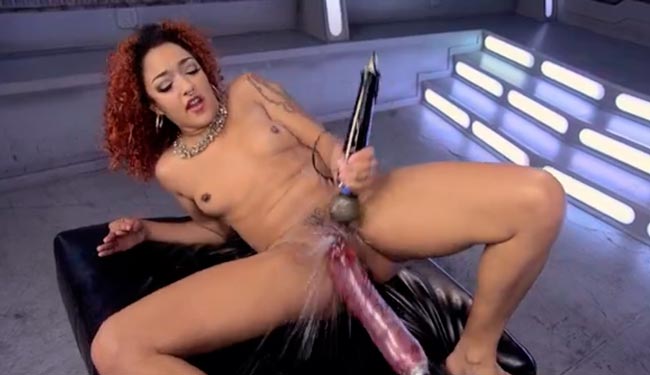 Website Layout
If you are already a fan of the Kink porn network, then you will surely recognise the familiar black and red aesthetic of the network. These are also the same colours that the creators use in their porn sites. In fact, they also share the same website design and layout. The reason is probably to maintain the branding of the network which is good in maintaining the popularity of the network and its creations.
Once you have already landed on their page, you will be welcomed by a really big and high-quality video trailer of their latest upload. Then you will be treated to their equally awesome thumbnails: these are more of their latest shoots and their featured shoots! There are two unique points in the website design that we would love to mention in this review, though. First, the porn site has this landing page that asks you of your porn preference. These are straight, gay, or both. In this way, the content that you will enjoy on the site is already preselected or pre-filtered to your preference.
Another nice thing about the porn site is the fact that all of the other porn sites within the Kink porn network are listed in the site's footer. This is very convenient for those who love to jump from one site to another. Every site is within a click's reach and you don't need to access another page anymore just to search for the site link that you want.
Models & Video Quality
Speaking of their porn sites, you would be pleasantly surprised to learn that the Kink network is actually home to some of the most popular hardcore porn models that we all know and love. The reason is because this porn network has already existed for quite some time now and has already developed their roster of models and porn stars.
What sets this porn site apart from others though is the fact that ALL of them are really into the respective fetishes being offered by the Kink porn network. This means that the ladies that you are going to see in FuckingMachines are really dripping wet in anticipation to be fucked by machines!
And let us not forget about the machines. They were all specifically created to give pleasure to women. They are complicated pieces of equipment that took real engineers to make! They are not just backyard machinery that they salvaged from an old tractor. Finally, the scenes are in full high-definition crystal clear glory. Say goodbye to the noisy and grainy pictures of yesterday – you will not find them here.
Final Resume
I personally can think of a hundred reasons more why joining it would be really pleasurable, porn-wise. Also, remember that the porn niche being carried by FuckingMachines is quite a rare one – one which you would find difficult to search for again in other porn networks other than Kink.

… or check these awesome porn review sites for further info about this one.
---