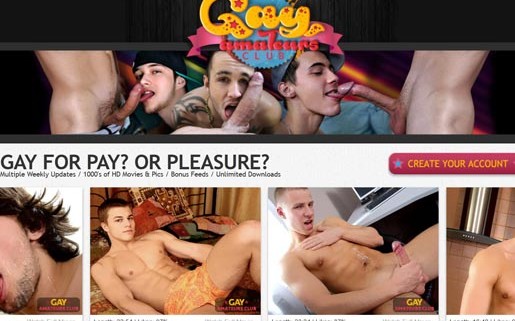 Intro
The GayAmateursClub is a place where you can enjoy a compilation of gay reality-porn scenes, which are trying to look like amateur porn videos, but they are just too damned good to be that. What you get here will keep you busy for a long time, and if you find that the hot sex and the gorgeous guys are not enough, the site claims to offer you much more than that. This site has been launched in 2007, and during the past 9 years it has been updating quite frequently. There were some gaps and inconsistencies, but the collection of porn you can access here will satisfy your needs. There are more than 100 videos in the library of the site, and since they are quite long, they might be enough to keep you busy until the next update. It seems that these videos are not exclusive, and their quality is hardly above average; nevertheless, this is a nice collection, and these scenes are very sexy. What makes the site really worth a try is the huge number of bonuses you receive. If you are an active subscriber, you get access to a pile of extras which includes not just bonus sites, but a whole lot more. As far as extra sites are concerned, you get 17 differently themed gay porn sites, which grant you a really varied collection. There are twinks older lads, and even straight guys in the videos of these bonuses, and it seems that the included sites are updating more frequently, and the quality is better too. These sites are easily accessible as streams. Apart from these, you also get a DVD theater at your disposal, where you can enjoy hardcore gay porn, made by different studios. There are no limits on how many you can watch, so get ready to spend lots of hours here.

Website Layout
When you open the home page of the GayAmateursClub, you will notice it at the first moment: the site is terribly simple. And also the tour isn't much either: scroll down the bottom, and you're done. Every site of this network shares the same members' zone. It's a quite easily usable page, which features a search engine, makes it possible to tag the content, and it also has some other options. There is a menu, where you can select from the different content-types, including the DVD Theater and the bonus sites' streams too. The left side of the page features the account menu, where you can open the list of favorites, recently viewed videos and others. As you scroll lower, you can find a categories selection menu, while the search field is located on the top. The site offers the two ordinary ways to enjoy the videos: right from the browser, or after downloading them. A Flash-video stream is granted for online access, it provides 480p resolution. In fact, the downloadable MP4 and WMV files also offer the exact same quality, and they are easy to download. Lots of extra photo sets are available as zip files.
Models & Video Quality
The lads on the GayAmateursClub are hot, and that's a fact you can't avoid. Though the site calls itself a gay amateur club, as you start browsing the content, you will surely find out soon that these guys are not amateurs. Or if they are, they are very good at this, because they do their things really good, sometimes better than the pros. It seems it's safe to state that the guys here are mostly Caucasians, however, they are not just gorgeous, but they are quite varied. As you will notice, some ethnic lads also appear among them, and they put on an excellent show too. When you start exploring the site's collection, you will notice that it's a really diversified collection, and the models' list offers a fine variety. There are mostly twinks here. As you may see, these fresh lads are getting on with the hard action quite soon, and their bodies are matching perfectly. You will find here both body-types: the skinny ones with their tight, somewhat average-looking shapes, and the fresh, but nicely built ones with chiseled stomach and definite biceps and triceps. Also, some older guys are making an appearance in the videos, so you can enjoy the performance of men, who are not exactly twinks. They also look pretty good, and it seems they really like to penetrate the tight ass of twinks. The videos here were shot on purpose, so don't expect to find here home-made porn from shady rooms and places like that. There are scenes taking place in bedrooms, but with the perfect lighting, and the high quality camera, it's quite sure you will come to the conclusion, that the videos are staged. It doesn't take away from their value, however because the sex in them is really good. Even those who don't like gay porn might notice: these are rough, yet somewhat sensual scenes. Sometimes we even suspected that the boys in some of the scenes are actually together because you can't fake that lust they show. Don't feel offended, but gay porn isn't two varied, because there are only two holes to fill. However, these guys know how to make it always more exciting and more varied. The one on one scenes are really sexy, and as these guys take the action on each other, you will see that they know how to make good love. There is a lot of anal sex, and the amount of cum on the screen is quite astonishing.
Final Resume
The GayAmateursClub have exciting porn videos, and it's quite certain that you will find some to put in your favorites' library. Though the content is not exclusive, and the updates are somehow tricky, we still recommend the site. Why? Because it has really hot content, and there are so many extras on the inside, that it would be a shame to miss out on this opportunity. You will see that it's good for your libido and to your purse.

Back to the best pay porn sites or check these awesome porn review sites for further info about this one.
| Review Site | Evalutation | Trial Price | Monthly Price | Yearly Price |
| --- | --- | --- | --- | --- |
| | | | | |
| | | | | |
| | | | | |
---