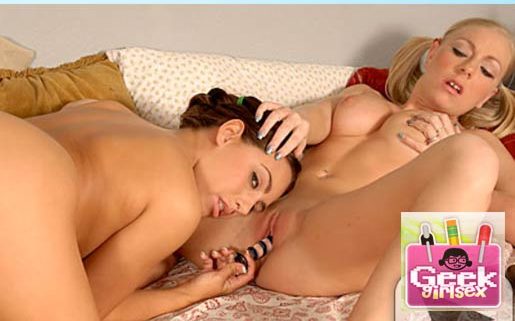 Intro
If you love your girls a little geeky, a little studious, and a little workaholic – I can assure you that heading on to the geeky but hardcore porn site called "GeekGirlSex" will be the best choice you will ever decide on. To the people who belittle demure looking girls in glasses, thinking that these workaholic females aren't exciting at all and that they could do better than ogle at four eyed freaks, I say, you've got it all wrong. Who says glasses wearing girls can't be wild and seductive? Who says they can't get their freak on and fuck the daylights out of themselves and their partners?
Well, that's about how GeekGirlSex works. It is chock full of porn stars dressed as geeky girls who've had their chains broken loose by a twist. They may look like your average nerds and dolts who haven't had a day off for years, but when the light snaps off and they remove their clothing, they turn into feisty tramps that have been riding dicks and licking pussies their whole life. They do it everywhere possible, like dormitories, work places, libraries, and such. These girls, when not busy or working, are natural savages when it comes to excitable and high strung screwing.
Although there are only a limited amount of dicks shown in GeekGirlSex, majority of the videos are focused more on lesbian play, much to the satisfaction of those who prefer a hot girl on girl action. These good girls gone wild will surely make your day with their sexual tendencies.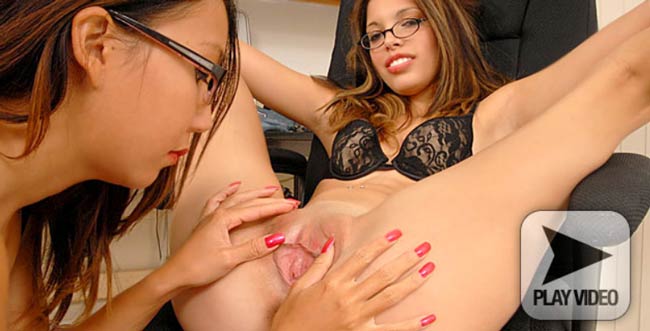 Website Layout
The GeekGirlSex website is clean and it is very easy to manage as well. Navigation is really easy and you won't get lost ever trying to find your way around the website itself. As for the videos itself, GeekGirlSex has around 30 videos present and available for viewing once you get to sign up as a member. Before I proceed to video entitlements and the such, I'd have you know that a five-day trial is available for a cheap price but if you prefer going for a monthly deal, I suggest you'd do so – it will save you a lot of time and money. Money especially.
So proceeding, each video lasts for about 10 minutes but that's only because they've been cut into separate scenes. If to be combined once again, the site will probably on have 10 videos in total. The content only looks many because of the distributed and sprinkled scenes all over. The videos are both available for streaming and downloading. You can view the videos online in an embedded Flash player with a 1280 x 720 pixel resolution. It's pretty much a very good quality which is really good considering there are no full length movies available, just a bunch of snippets. For downloads, there are various resolutions available as well such as a 1280 x 720 pixel resolution, a 720 x 480 pixel resolution, and a 960 x 540 pixel resolution. The downloads can be in a WMV and MP4 format once downloaded, it really is just your choice. Once you become a member of the site, you are entitled to exclusive and unlimited downloads.
Also, there are photo galleries available, at least 60 photo sets are found in the website and each photo set contains around 120 photos inside. Unfortunately, you won't be able to download the photos by zip files but you can save them individually by right clicking on the respective photos. These photos are in high resolution and these are exclusive as well. There is no DRM restriction and most videos are bordering on hardcore and soft core.
As usual, with your already present membership, you will be entitled to more than a dozen other websites that will highly interest you in terms of sexual desires being curbed. Around sixty sites come free just by purchasing your way in a membership for GeekGirlSex. Sites like Anal Hell, Busty Solos, Cable Guy Sex, Ebony Addiction, TeenageWhores, and Tempting Tranny's are just few of the said bonus sites that come along your GeekGirlSex membership. When you think about it, that's like 1800+ scenes available at your beck and call or whenever you feel horny and you need jacking off material.
Models & Video Quality
The girls of GeekGirlSex may look geeky, nerdy, and dorky but that does not stop them from doing all the fucking and getting fucked in return. They are busty ladies with quite perfectly shaped breasts and really curvy bodies that would leave both men and women wanting more.
For lesbian lovers, this is good news: majority of the videos found in the website focus on a lot of girl on girl action. Yes, pussy licking, fingering, and scissoring are a huge factor in GeekGirlSex. You have glasses, short skirts, tight blouses, and pig tails that will only heighten the sensuality of your experience. The girls are gorgeous and they are good at what they do. They know exactly what to do to keep that pussy wet or that dick standing.
Final Resume
Aside from the fact that I am unable to download these high-resolution photos in zip files to make my life fairly easier to manage, I highly recommend GeekGirlSex to everyone interested in good girls gone wild.
The video and photo quality is excellent and although there are only a few scenes available at the moment, there is potential that this porn site will grow huge and hit home for a lot of people. GeekGirlSex will not only bring you the geeky side of porn, it'll show you how much a tame girl will go wild when it comes to curbing their sexual desires.