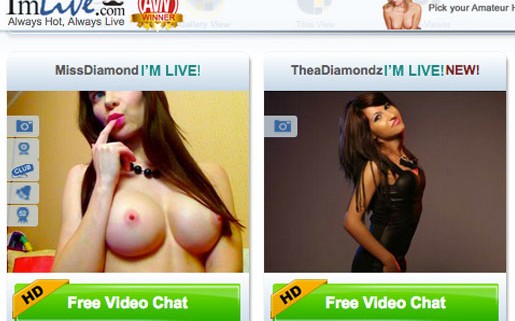 Overview
IM Live is a live cam site, where you can enjoy some very varied performances of beautiful people (females, males and shemales as well as transsexuals). Those men (or women) who watch porn, or just feel lonely, will eventually land on a cam site, where they can live out their fantasies, even if it only happens on the screen. The feeling of being the boss, and tell the host exactly what to do, is very lifting, and it's good for the soul and the libido too.
The hosts are originating from all around the word, they speak mostly English, so discussing your needs and the details won't be a problem. The performers are hot, and you can find all kinds of people in here. As for the girls, there are alone chicks, straights and lesbians (for women clients), who are performing with hands and sex toys, but you can find lesbian couples as well as threesomes. If you are looking for something special, you can enjoy the shows of the shemale hosts. The guys on the site also look good, there are straight and gay lads, and you can find boy-on-boy couples too. Since it's a free world we are living in, and that's true for most of the live cam sites, there are hardly any things that can't be arranged. The performers are very willing to do anything for you, and if you are looking for something kinky, or you have a fetish, you will surely find someone to make it real. The site has a long history of service, and the quality of the site and the hosts are honored with multiple awards won as the best cam site of the year in multiple annual award shows.
Design & Features
The IM Live's site has a unique design and it loads fast like lightning. On the top of the page you can find the buttons for joining and login. Under that you can see three options: Live Cams, where you can list the currently online hosts; the Host Videos will show you the exclusive videos of the performers and there is the Top Host Arena which lists the most favored hosts of the site. Under these three options, you can find some buttons to change the listing format and choose the category.
You can choose from three different listing themes: the default is the Host List, where you can find the performers listed under each other and there is some information available about them. The second option is the gallery view, which lists the hosts next to each other in four columns and many rows. The third one will be familiar if you have visited other cam sites; it's the tiles view, which shows the performers in a large mosaic. One of the best features is the Multi-Viewer which allows you to browse six performers at once, and peek into what they are doing.
Girls & Videos
It's always so exciting to watch porn featuring smoking hot chicks performing live on your computer screens. These real girls from IM Live are so different from your wife. They have an incredible sexual appetite and they love to fuck all day long! They are very beautiful and you can find on IM Live a lot of diversity. Some of the girls have big shapes, other are very slim, some are fresh while others are more mature. It doesn't matter how they look, the most important thing is that these women always say yes to a man! Chat with the, tell them how beautiful they are and they will masturbate with you and they will squirt all over the webcam!
One of these passionate ladies from IM Live is Naughty Play, a very cute brunette with long hair. She has a slim body and her face is beyond beautiful. That woman is so sexy that you will have an instant hard-on! She likes to tease men and when she is naked she always play with a big black vibrator. You can see some very nice pussy close-ups with her, so after you join search her profile. If you like big beautiful women, there are plenty of them on IM Live, like the sexy ClareJoy. She has a big ass and some huge tits and she looks spectacular. That girl is bored like hell and she wants to fuck all day long. Act nicely with her and that woman will let you fuck her ass. On IM Live you can also find some wild couples and those are the best. You can see live how a man fucks his wife or how two lesbians are eating each other's pussies. Majority of girls on IM Live are real girls, but you can also get a chance to watch some amazing live shows by famous pornstars.
The site has a huge collection of beautiful chicks and number of performers is increasing day by day that have no inhibitions and love to do live sex shows for your viewing pleasure. There are couples that are into BDSM, so if you like hardcore sex with a lot of anal action and spanking check them out and have fun with them!
Final Resume
IM Live has lots of nice features and a large host database, where you can find a woman or man you are seeking. The quality of the connection is good and stable, and the cameras that the performers use are from the better kind, and you can enjoy even HD shows.

Back to the best pay porn sites or check these awesome porn review sites for further info about this one.
| Review Site | Evalutation | Trial Price | Monthly Price | Yearly Price |
| --- | --- | --- | --- | --- |
| | | | | |
| | | | | |
| | | | | |
---