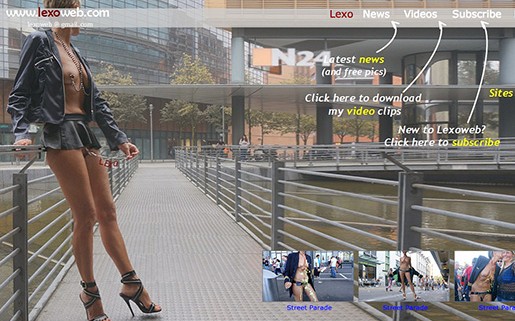 Overview
Lexoweb is a website that features movies and pics from an exhibitionist adult sexy model, who goes by the name Lexo. The site has exclusive content that includes hundreds of photos in three galleries, and over a hundred videos featuring the model nude or semi-nude in public. To access content on this site, you will be required to sign up as a member which gives you unlimited access to the content.
Design and Features
Lexoweb has a design that is simple, but easy on the eye. The advantage of websites with a simple design is that resources are easy to locate. The content can be accessed by two main options given on the top menu. The options are "News" and "Videos". The "News" section shows the latest photos of Lexo. The photos are posted in this section are sorted from the latest to the oldest ones, which can be found at the bottom. There are a number of photos here that are absolutely free, and can be accessed by first time visitors of the site, whether there are paid members or not. The videos can be accessed in the "Video" section. The video posts are in short thumbnails showing a screenshot of the video. Visitors of the site, who are not paid members, can get to see more screenshots of the videos with a short description of what is happening in the video. Other than the news section, there are a few quality photos on the left side of the website in the wallpaper section. The photos are few, but of excellent quality, and are surprisingly not watermarked.
Girls and Videos
As you would expect, the site has videos of Lexo getting nude, having sex or just fooling around in public. This is a voyeur site that is meant to appeal to fans of public nudity and voyeurism. Fans of this type of exhibitionism will definitely enjoy watching Lexo exposing herself to all and sundry. Lexo is not the kind of woman you would describe as shy. Unlike other voyeurism sites, she does not get nude in abandoned public places. Lexo is the kind of woman to get nude and walk into a crowd of shocked onlookers. From the videos, it is clear that some onlookers are shocked and surprised to see this slim and sexy model get nude in public places such as the shopping mall, grocery store and a relatively busy street. In some of the videos she is seen stripping nude or masturbating solo. While in other videos she has a female partner and she can be seen stripping with a female partner. In movies where she has a female partner with her, they often engage in cunnilingus, mutual masturbation and the like. Lexo also likes going to parades, where she interacts with crowds and plays around with both men and women. In some of the videos, she has whipped cream sprayed all over her body as strangers from the parade try to lick it off. In other videos, eager men and women who can't seem to get enough of her sexy and shapely body shamelessly grope her. The videos are in the form of short movies of about 20 to 30 minutes. There are however, a number of videos which are shorter. You can subscribe to the website and watch all the videos and view photos. You may also choose to buy individual videos online and this also gives the option to download and watch at your convenience.
Conclusion
For those who love voyeurism and public nudity, especially from a beautiful model such as lexo, this is definitely a site they should consider subscribing as members. You will enjoy access to exclusive content from a top rated nudist and porn star.