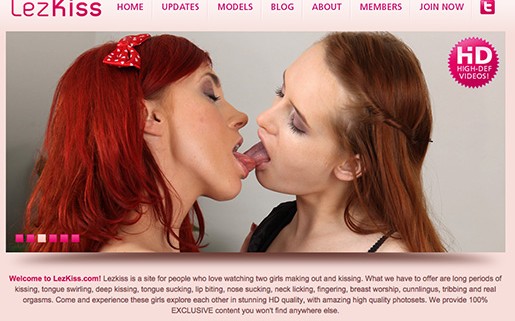 Overview
LezKiss is a site dedicated to fans who love watching girls kissing, making out passionately, and having intense lesbian sex. The site features slender and fit lesbians in their early 20s and who are mainly cast from European countries. Members get access to 100% exclusive content.
Design and Features
LezKiss has a simple basic design. The visuals and layout is just spot on. Navigating the site is easy. I didn't fumble around while browsing and check out vids. While the design is not sleek, content organization and delivery is great. I think its pretty much at per with other top lesbian-oriented sites like Xerotica and FemJoy In all, there are over 100 galleries on the site. You can easily skim through the site to check video and photos. There are two ways to get around the site. You can either browse through the galleries (which can be sorted in their chronological order) or you can check the model list and select who you want to view. Both ways lead you to the gallery and movies of that model. Either way, I found it more convenient when perusing through model profiles and their corresponding content. Photos are in JPEG format, which come in 3000 x 2000 dimensions. All the videos are in 1080p HD and come in WMV format. While the some vids have a lower resolution, the newer version were in HD videos and optimized for mobile device users, who want to download them on their Smartphone's and Tablets. Once you enrol, you can download both images and videos without restrictions.
Girls and Videos
The two things that stand out for this site are: the quality of the videos, and the choice of the models. The models are either slim or of average site, although most of the models tend to be very slim. Many of the models have perky breasts, but there are a number of them with big upright and attractive ones for all those who fancy slim, fit but well endowed women. The women are European with many of them having an Eastern European look. None of the models can be said to be average. More than 80% of them are above average, while there quite a number who are of exceptional beauty. The videos are usually about 40 minutes long. They often start with two models flirting, kissing or teasing each other. The location is often indoors, on the sofa or bed, but occasionally it may be outdoors. The two girls then begin to make out more intensely by deep kissing, face licking and fondling each other's breasts and butts. In most of the videos, the make out session takes a considerable part of the movie. The make out session then moves to lesbian sex involving pussy licking, fingering, or mutual masturbation. The quality of the videos and the photos is very high. This is probably one of the reasons the photos have very little airbrushing; with that level of quality there is no need to airbrush the photos. The videos are well lit and artsy. They are probably taken in a high quality studio designed for these kinds of shots. The content is updated regularly. Often you will see new content every seven to ten days.
Conclusion
LezKiss gets most of its points from the quality of the videos, photos and the sleek design of the website. It is very classy and very professionally done. The videos build up to a remarkably high intensity that will leave fans that love watching lesbians in action yearning for more. The site deserves a 9/10 rating.