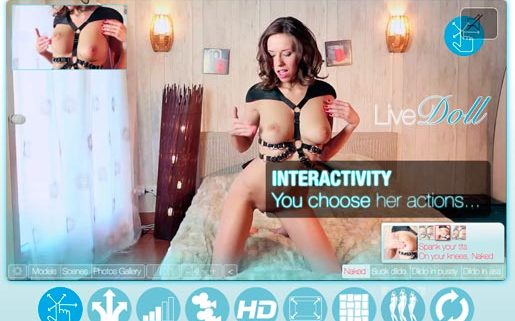 Intro
This time, our review isn't about a conventional porn site where you can watch hot chicks getting banged. No, this review is dedicated to the site called LiveDoll, which grants you high-quality interactive porn to watch. Let's clear up what interactive porn is, first. We are certain that you are familiar with live cam shows, in which the models are performing in accordance to your wishes. Now, the interactive porn gives you some freedom, but the videos themselves are pre-recorded: the scenes start with the girls on the bed (mostly solo action is featured, though) and they have an initial sequence. You can make them strip their clothes slowly, or just drop it and get on with the juicy show. Just like in a live show, you direct the girls what to do, and you can replay the parts you like any time you wish.
These videos are all exclusive, and you cannot access them as full flicks, only as interactive porn videos. The LiveDoll was launched during the spring 2016, and at the time of this review it's only about 4-5 months old, but that shouldn't scare you: the site keeps adding new scenes, and the current selection is quite enough to keep you on the loop.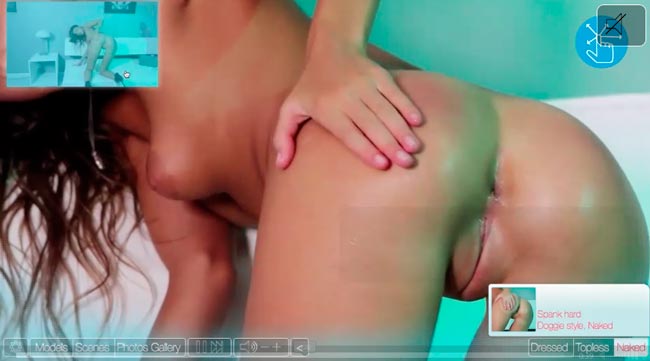 Website Layout
The tour you could take at the LiveDoll is pretty exciting. You can watch short clips highlighting the features of the site, while there are also previews for the actual content too. In order to satisfy the needs of all who are looking for hardcore sex, the videos of the site are previewed with all the good options at your disposal. It's recommended to try the site's features because that will help you familiarize with it so you can use them better later on. The members' area is practically the same, so that won't cause any surprises. The main area you are going to use is the player window. Well, there is a menu, though, where you can get to the models' list and the videos' list, and that's all.
The player grants you several menu options. First, you can switch the camera angle – actually, it's not the angle, it's rather the distance of the camera from the girl. You have the option to change the resolution, up to 1080p. If you encounter lagging or other issues, you should lower the quality for better playback. There are tooltips you can turn on or off too. Also, the player itself has a menu, where you can list the girls and the videos, so actually, it's the main site. You can change the language of the LiveDoll player interface. The real goodies are the action options. There are 3-4 main categories (e.g. dressed, topless, naked), and several actions in them, like "dressed-doggy style-finger-your-ass". The videos are online only. 
Models & Video Quality
The models of the LiveDoll are actually real-life dolls. Since they are professionals, you can expect to find here only truly hot pieces, and they will do exactly what they are asked to do in order to make you satisfied and interested. We have to say, we loved to watch these models especially because they smile a lot, and that makes them much hotter than when they get drilled by some horny man. We enjoyed watching Viola Baileys: she is a cute blonde, with a tight body, a playful smile and two amazing, big naturals on her chest! She might be popular for the site's members and makers too because she has two solo scenes and a lesbian video with the cute Merry Pie. There are blondes, brunettes, and black haired models too, and though the ethnic variety isn't too great an Asian-looking girl is featured too. As the girls are not amateurs, you can expect some really good thing happening on the screen, and while you are in there, don't forget to check you favored models' all scenes!
Now, the videos are really something. They are all quite long and feature several different actions. The girls usually sit-kneel on a bed, with some clothes on. To start the show, you have to pick an action. If you think striptease and foreplay are bullshit, you can skip right to the insertions. In many cases, if the videos were fully played with no brakes between the actions, they would go on for more than 60 minutes – some are actually nearly 100 minutes long. You can imagine how many juicy things can take place in 100 minutes long solo video! The girls will talk a bit, and they are going to be quite inviting: you should take a ride with them because they are hot and they know how to make you happy. There are some kinky scenes, by the way, in which the girls wear leather, or nylons and they do juicy things. We were a bit surprised to see how, they get in the videos: it looks like they actually get turned on, and they show you what they are made of. Strap-on sex, oiling and some nasty things, like butt-plugs inserted also happen.
Final Resume
Those who like to watch hardcore porn will certainly come to the conclusion that the scenes here are not exactly what they are looking for. However, they (and you) might get the hang of this interactive porn, as it's quite addictive. You can do whatever you would like to do, and if you consider that you usually have more than 60 minutes of material to work with, you can feel like you are watching a new video every time you start. The LiveDoll is a refreshing site in the porn area. Warmly recommended.

… or check these awesome porn review sites for further info about this one.
| Review Site | Evalutation | Trial Price | Monthly Price | Yearly Price |
| --- | --- | --- | --- | --- |
| Best10pornsites.com | N/A |  N/A |  $19.95 |  $99.00 – $8.25/mo |
---