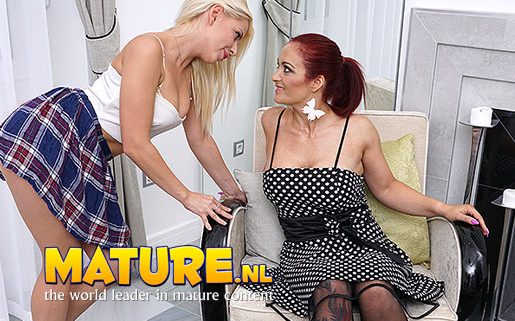 Intro
On the Mature, you can access a large, ever-growing collection of softcore and hardcore porn videos, featuring stunning and some somewhat average MILFs, Cougars and Matures from Europe and the US.
This website actually offers you over 14 years' worth of pornographic material, ranging from modeling shots to actual hardcore videos. There are photo galleries and scenes too, and we are positive that you will love them – especially if you are into matures. Fortunately, the site still keeps updating, so you can expect some fine porn with matures dropping every week – sometimes multiple times a week. Most of the updates feature videos, and some of them have matching photo sets too – photos, and not video captions! The content of the site is fully exclusive, so you won't be able to find them on any other mature-focused sites. This means that if you like this kind of porn, you have to join this site, it's really a must-have.
The summarized amount of videos and photo sets you can access with this membership is: circa 2,900 videos, and around 3,000 photo galleries – mostly added with the flicks. It's huge we have to tell, and if you consider the somewhat kinky niche of the site, you will see that it's even bigger. But that's not all you get here, there are piles of extras to enjoy too. The Mature has a selection of cartoons, 3D videos for you. Probably the greatest bonuses are the additional videos you can watch – they are coming from third parties, and they are all there to tease you, and make you interested in joining those other sites. Check these fine, varied porn scenes, and decide accordingly to your preferences.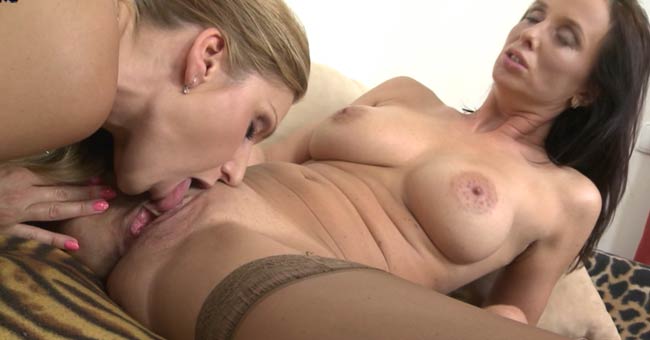 Website Layout
The home page of the Mature is a bit strange at first. But as you take the time to explore it, you will notice that it has everything you need in order to navigate the content. We loved the way the site operates, and the tour is really a teasing one. There are many pictures listed throughout the page, you should take a look on them – they are made to look like they were DVD or magazine covers, even bar-codes are placed on them too. There is at least one preview video, the stream of the day – these are usually 3-4 minutes long action-packed porn clips, make sure to watch them prior joining. On the right of the page you can find some categories listed, thus you can find out what kind of porn is waiting for you inside. You should take a few minutes to enjoy the tour, but you will be convinced quite quickly. In the members' zone, the blue color theme is continued to be used, and the layout is nearly the same, though it's clearer.
There is a menu-area on the top of the page, where you can access the content and the extras – also the models' list, the favorites list and the search page are reachable via that menu. Also, mostly the same options are listed on the left of the page, but there you can also find the sites' list and the niches' list a bit lower. Some might not like this built, but rest assured, it is working fine, and it has everything you need to find the porn you seek.
The scenes are available as a Flash-video stream, though you can always download them too: WMV, MPEG and mobile-friendly MP4 files are offered for download. If you save the scenes, you can enjoy them in HD, so that's the way you should go in case you also care about quality. The photo galleries are quite amazing. Most of them have been added with the videos, but they offer you real photos, taken during the shooting, thus they feature the action from different angles. Zip sets are also available, with more than 100 pics per set, this is a good option to choose.
Models & Video Quality
Every video features a mature model, and these ladies are coming from all over the world. There are MILFs and grannies from countries of Europe, from Britain to Russia and Spain. Also, some quite spectacular matures from the United State make an appearance, so you will love whom you can watch in these scenes. These matures are not all professionals, some of the actual amateurs, but there are some returning women too. You will find here a few actually very hot pieces, but there are really many women who are coming from the homely category.
And not just tight-body women are feature here: there is a full series of BBW matures for you, so you can satisfy two of your fixations. The scenes have an amateur feeling about them, and though they are done in studio-like environment, they are not the high-end porn videos the web is full of. This amateurish impression however does some good for the scenes, they feel more real, more homely because of this. The sex taking place in the videos is really fine, and these ladies really know how to have it. You can enjoy here a wide variety of mature-related porn, including interracial sex, solo action, old'n'new, and some old on old, and cougar-kitten lesbian sex too.
Final Resume
The Mature has a large selection of sexually explicit videos and photos for you, and if you like to watch hot ladies getting banged hard, you will certainly love the videos of this websites. The updates keep coming, which is a strong point of this network, and the different series the site runs are all continued. You will find here hard and soft material too, and we have to say that our overall impression of the site is fully positive.

… or check these awesome porn review sites for further info about this one.
---