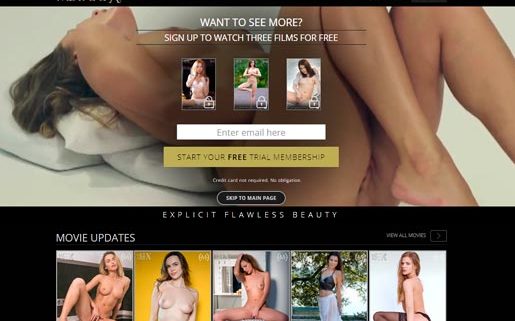 Intro
There's nothing hotter than the amazing HD erotic porn videos featured on MetArtX. There are no guys to ruin the scenes, only women loving their bodies, rubbing their pussies and gently playing with sex toys. Everything is shot in HD and 4K UHD, so the quality standard is way above the competition.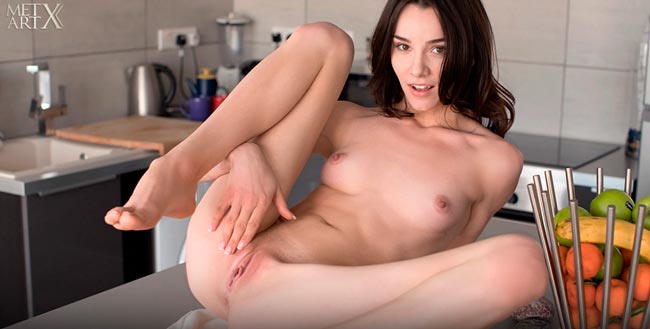 Website Layout
The website has a modest design but it's not at all a con. The simplicity goes well with the erotic genre and is a great example of how, sometimes, less is more. The focus is only on the girls, on their beauty and not on complex search functions and too many categories with drop menus. You can browse scenes by sorting the latest ones or by popularity and you can also get a glimpse at upcoming content. There is also a section that features scenes arranged by MetArtX staff ratings. All the scenes have descriptions and the models are given short bios and measurements. You can rate both scenes and girls individually, and you can also comment on those pages. The way you rate can affect the overall popularity of certain models so who knows; maybe your favorite will have even more scenes in the future.
There are many membership plans available on MetArtX. For credit card and PayPal users there are three subscription options. You can go for a full year plan or choose between the one month recurring one and the onetime payment one month plan. The most interesting feature is reserved to bitcoin users. Along the 365 days subscription that is available for every payment option, if you use bitcoins you have the opportunity to purchase a lifetime membership. That's one payment for lifetime access to the website. Whatever you may choose, you will be treated the same and get full access to all videos and photo sets, full mobile and desktop support as well as 24/7 customer support. That's pretty cool.
Models & Video Quality
As you can see from the mini tour on the landing page, only the fittest women make it on MetArtX. Maybe because the site features only solo content, more beautiful women are inclined to let themselves go in front of the camera. If that's the case, great for us and great for the site, because they won't run out of models for sure. All women, brunettes, blondes or redheads are slim and fresh looking. Their facial features are to die for and they get highlighted perfectly in the HD and 4K UHD formats. Some of them may have bigger than usual breasts, for their size, but I doubt anyone is going to complain about that. It's all natural anyway, so you can't argue with Mother Nature.
The videos can all be downloaded in MP4 or WMV formats. There are at least 250 scenes already up and new content is being added on a daily basis. Since the lowest quality is full HD, you can expect nothing short of perfection when it comes to settings, makeup, sound and whatever else crosses your mind. The picture galleries are found in zip files, and all members have access to them.
Final Resume
After seeing MetArtX, I'm convinced that erotic porn is making a comeback. Sure, it was always fun to see sex but when videos come in such high quality, the way the naked female body looks is so amazing, I doubt I'll need more. The solo masturbation focus of the scenes is perfect, as it lets you truly experience a woman's beauty.