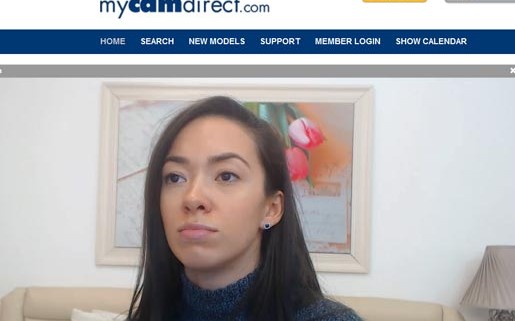 Intro
The My Cam Direct is a live cam show site, where you can enjoy softcore, or hardcore shows of gorgeous girls from throughout the world. Whether the show is soft or hard, depends on you, but as you may notice, every performer here has her own style, and there are things that they are not willing to do, no matter how much you are willing to pay. Fortunately, with over 65,000 models to choose from, it will be really easy to find someone who can do those things you wish to see. Some shows cover heavy hardcore niches too, take your time, and browse through the models' profiles. Depending on the time of day you are visiting in, you can find usually circa 1000 models online, or in some cases 300-500, though the numbers can change quickly.
Since it's a live cam show site, it's not really necessary to mention that there are no videos here. However, since you are the one who controls the situation, you will know that it's fully exclusive, because it's only for you; no one else can see what's happening. There are no bonuses inside (what would you possibly expect from a cam show site?), but you can browse photos of the models.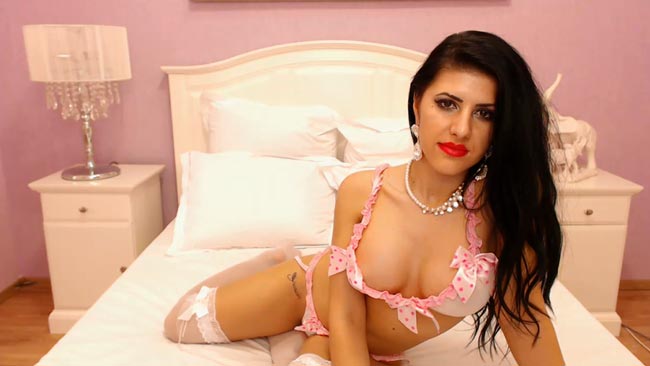 Website Layout
The site has a simple design, and though it's a rather large portal, it doesn't feature that design you can see on the top live cam sites. Nevertheless it's looking good, and due to the lack of Flash-streams opening when you move your mouse, it loads pretty fast. The main color of the site white and blue, and it's a fine change after the darker red colors of other cam sites. When you start exploring the site, you will see that there are dozens of options to narrow down the list and find performers who can do a show that you want.
First, there are menus to help you, where you can select different categories, which refer to the niches the girls' show covers. Apart from that you have the chance to define the physical attributes of the models, thus you can select age, ethnicity, hair color, gender and other things like tattoos or piercings. There is an advanced search page, where you can select multiple attributes and like in a role-playing game, you can build up the heroine or hero you are looking for. Under a separate page, you can select to list only the newer models. This is a good choice for those who don't want to get to the more expensive shows first, since the newbies usually set lower prices. It's a win-win for both parties, because you save money, and the girls get a client and a good rating.
The shows and the girls have different features; one thing is common here however: the high video quality. Not just the experienced models but the newbies are also using HQ equipment which means usually HD playback and remote-controlled cameras. More and more models are making the Cam2Cam feature available. It's only natural that the site has a nice mobile interface, and even an Android app is available to make it more comfortable and smooth.
Models & Video Quality
The My Cam Direct might look familiar to you, especially if you are a regular live cam site user. If not, you may have already run into sites like this, and browsing through it won't be a problem. Since these pages are all designed to be easy to use, you can learn to use it. It's quite important, because there are thousands of models, and if you want to list those you may find interesting, the filtering options are important. This site overwhelms you with variety, so it's necessary to know what you are looking for, otherwise you will find yourself watching the show of a girl, and don't even know how you get to her.
All body types and ages are available, so if you like big girls, or old ladies, you can find someone to please you. As far as variety is concerned, it's also present in the gender, and sexual orientation of the performers. There are gay lads, and straight dudes too, some are really good-looking, while others are bit average. The trannies also look quite hot, and their big fake breast and nasty behavior turn you on if you are into them. As you might expect, there are no videos on the My Cam Direct. Apart from the live streams, you can enjoy some photos of the girls, but that's all of the extras you get.
When you start a private show, you will feel like you are in the director's seat. You can tell her what to do, when to do, and you can decide what she could use. Most of the higher-level models feature lots of kinky elements, so you can make her get some leather on, fuck herself in the ass, and a lot more. In fact, the live cams are the heaven for fetishist, because there is always someone among the models who is willing to do your thing for you, given you know what you want, and you can tell her nicely.
Final Resume
The My Cam Direct is a really good webcam site. Though it uses the same models' database as the Streamate, it has some other features, and the nice design makes the site unique. Registering on the site is free, and you can enjoy unlimited free chat, and also you can browse the models' list without restrictions. Fortunately, the site is not on the expensive end, and the girls usually set reasonable prices; even the pornstars who appear here are available for anybody.

Back to the best pay porn sites or check these awesome porn review sites for further info about this one.
| Review Site | Evalutation | Trial Price | Monthly Price | Yearly Price |
| --- | --- | --- | --- | --- |
| | | | | |
| | | | | |
| | | | | |
---