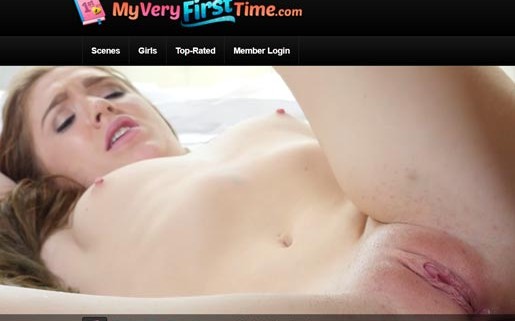 Intro
The My Very First Time is one of the newest porn sites around. It's only seven months old, but it has a great potential, and it's on the right track to grow into a big site. When you open the page, you will see that there are various try-outs and first-times in these videos, and these are hot enough to give this site an edge. If they can cast more hot girls doing things they never before – and if they could guarantee that it's really their first time – then this site could become a real big-shot in no time. So far the following main niches are featured: anal sex, lesbian love, interracial sex (Black guy, White girl), gangbanging and double-penetration. These are quite hot things, if you think about it. Concerning the site's background, we could dig up that it has a stable company behind it, and the site is not the only one these guys run. However, the My Very First Time is a standalone site, you won't get network access or whatsoever. As far as bonuses concerned, you get live feeds, and that's it. However, the videos of the site are long, exciting porn movies, so they should keep you interested for a time. Every video runs for more than 40 minutes, and though they feature a bit of an interview, the largest part of them is about the hard sex. There are weekly updates, so the collection grows steadily. What could really make you stay here is the amazing video quality: all videos are Full-HD or HD at least, so your cock may get tired, but your eyes will thank you.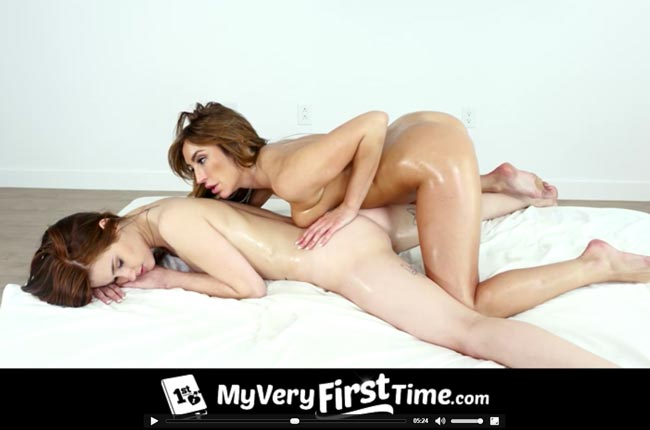 Website Layout
If you are just looking around on the site, you can still have some fun moments: you have the chance to browse the models' list, and as you take the free tour, you can watch some hot trailers. The site looks quite promising with its simple design and neat layout. As you enter the inner page, you can see that the same layout and design are featured. At this time, it's not a big deal, but later the lack of navigation and filtering options may prove to be a bit of trouble. Nevertheless, the few videos you can access won't cause you any problems. The models' list is a kind of sorting option, but since most girls appear only once, you will probably watch every video and be done with it. The mobile interface of the My Very First Time looks good, and works nicely. When you open a video's page, the first thing you will see is the player window. This embedded player works fine, and it grants you 720p resolution for in-browser watching. On the same page, you can find the download options: MP4 files with three settings (480p, 720p and 1080p) along with a 720p WMV file. All scenes come with a set of video captions, which can serve as previews for the actual content. However, if you like them, you can save all of them in zip format.
Models & Video Quality
There is always a first time for all girls, and this seems to be true for the chicks of the My Very First Time. Though they are all experienced porn actresses, there are things they haven't done before – at least that's what the site claims. You will find here the hottest chicks available, going through their first times ever. These girls are the ones you seek, especially if you are a looking for chicks with tight, natural body.
As you browse through the models' database you will see that they aren't only sexually attractive, but they also have some cuteness about them… it has to do something with the high video resolution and the fact that the girls are smiling a lot. So, they are all professionals, and though there are some scenes where they claim that it's their first time ever to do porn, don't believe it, these girls know how to handle a hard cock. And an amateur doesn't go straight for anal sex on the first video. Nevertheless, the models here will surely meet your expectations, and since there are also Asian and Latina models, a neat variety is granted. As far as the guys are concerned, you will recognize them from other sites that cover hardcore sex, mostly on US-based networks. The videos here all start with an interview-like something: every girl introduces herself, tells a bit about her career, interests and stuff. Then they are stating what they haven't done before. In most cases it's just anal sex, but you will find here first-time lesbian encounters, and a few gangbangs or double penetrations. Now, it may seem quite unbelievable that a porn starlet have never tried anal before, but seeing those faces, and their seemingly not faked nervousness, some of these are really going through their first anal penetration. This gives the videos an exciting edge, and if you like to hear girls scream with mixed feelings of ache and pleasure you will be able to go off quite easily while you watch them. The lesbian videos are quite hot, but there aren't too many of them. However, the DP and gangbang videos – though they are also not great in numbers – are really exciting. Especially because most models are short, and next to these tall, well-hung guys they look really cute and fragile. There are a few scenes where the girls are trying out a big black rod, so some interracial sex videos are also available.
Final Resume
The My Very First Time will prove to be a good porn site, where you can enjoy hardcore porn videos, with cute girls. Since the models are all professionals, it's a bit unbelievable that they haven't done any of those things they claim, but you should give them credit because if they lied, they are really good actors… You may consider the site a recommended one, because this isn't a picky collection, every porn fan can enjoy the videos. Though there aren't much bonuses inside, the price they ask for the membership is reasonable, and you can save any video you want, thus building your Full-HD porn collection.

Back to the best pay porn sites or check these awesome porn review sites for further info about this one.
| Review Site | Evalutation | Trial Price | Monthly Price | Yearly Price |
| --- | --- | --- | --- | --- |
| | | | | |
| | | | | |
| | | | | |
---