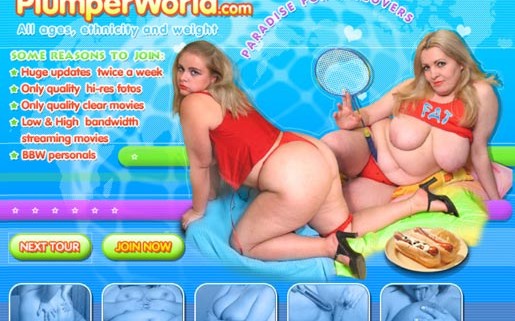 Intro
Big beautiful ladies are in abundance on this site. Plumper World is for the subscriber that enjoys the larger side of life. The site offers over 300 BBW models that are exclusive to Plumper World. These models star in hundreds of videos and thousands of photos. There will be no shortage of big beautiful love here. The site contains all weights, ethnicities and ages meaning you are almost guaranteed to find whatever fantasies you came to Plumper World looking to fulfill. Before even subscribing take a free tour of the site to experience some of the sexy full figured bliss that you could experience as a subscriber. This is the most famous BBW site on the entire internet. In four years of service, it has become the largest site for sexy plus size videos.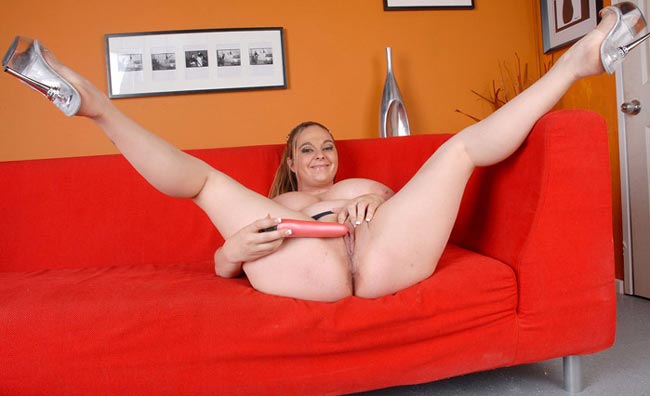 Website Layout
The design is a simplistic and easy to use set up. When you arrive at Plumper World looking for plus side models to tickle your fancy you know that you've arrived at the right place. Immediately you see some very sexy BBW women waiting for some action. They're ready and waiting for you to fill their pussies while they fill their stomachs. There are a lot of good features that come with a subscription to this site. Access to the site will give you more than just videos and photos. The videos and photos containing the girls are just the meat and potatoes of the site there's a whole smorgasbord of sides to go along with the main course. Along with hundreds of models, hundreds of videos, and thousands of photos you can expect some unique extras as well. These extras include a dating service, live video chats, and hundreds of BBW stories to enjoy. There are scheduled live shows and free live video chats with the models with your subscription. And if you run into any technical issues or need any kind of help regarding the site you have the convenience of 24 hour member support. At Plumper World, someone is always there for you. And let's not forget to mention that subscribing to Plumper World gives you bonus access to 15 other sites and three of those sites are also BBW. Given this added bonus you can multiply your pleasure knowing that these little treasures are waiting for you just for subscribing to this one site.
Models & Video Quality
These girls are eager to please. The site offers you a myriad of choices. With over three hundred models the only issue you'll have is figuring out which one of these tasty morsels to devour first. The girls are eager for you to feast on their bodies. One of the really nice things about the site and the girls on the site is that you get so much more than just the videos and the photos. These girls are ready to share their delicious stories with you, give you live video chats, and even consider dating you. Fantasy has the possibility of becoming a reality with these girls. So many times pornstars, whether amateur or professional, are out of reach to the subscribers viewing their videos. This is not the case with the girls on Plumper World. There are a lot of opportunities to get to know them beyond their performances in videos or their sexy pictures. The live shows give you a taste of these girl's personalities as well as a feeling of being closer to the action. But there are also live chats that enable you to actually talk to the girls and find out more about them. These girls are waiting for you with titillating conversation to go along with the sexy videos that they star in. The videos and photos are all high quality. Some of the videos are downloadable so that you can have them on whatever device you want to keep them on for as long as you want. A good feature about the streaming videos is that there are low and high bandwidth videos available. Sometimes you may not have the best internet connection available to you, during these times you can still enjoy videos from Plumper World without the annoyance of needing more bandwidth to stream them properly. The videos are being continuously updated adding more and more pleasure to your day. An amazing feature is that along with the other videos of these girls you can also engage in interactive videos through live video chats. This puts you in the action yourself. You could get a little naughty with some special personalized chatting or get to know the models a little better in any way that you want to. Considering the fact that the site also includes BBW personals you could end up actually meeting one of the girls in the flesh and making fantasies come true for the both of you. The girls are highly accessible and so are the videos. The site offers an amazing and expansive experience to subscribers.
Final Resume
Plumper World has a lot to offer. In addition to hundreds of videos and thousands of photos as a subscriber you have options to see these girls on live video, hear their stories, and actually chat with them yourself. With the given bonus of a personals site built right in you may also even have the chance to date one of them. Beautiful, sexy, and naughty BBW girls are waiting at Plumper World to literally make your fantasies become realities. 24 hour support and the addition of 15 other sites with just your Plumper World subscription are the delicious cherries on top of the hot gooey sundae that is Plumper World. These BBW girls want to allow you into their world, the world where there is a lot of sexiness in some really big and beautiful packages. Plumper World is your ticket to all the BBW action that you can handle and then just when you think you can't handle anymore sexiness goes explore the 15 bonus sites and see what all other surprises lie in store for you. At Plumper World, it's always time for a buffet of sex.

Back to the best pay porn sites or check these awesome porn review sites for further info about this one.
| Review Site | Evalutation | Trial Price | Monthly Price | Yearly Price |
| --- | --- | --- | --- | --- |
| | | | | |
| | | | | |
| | | | | |
---