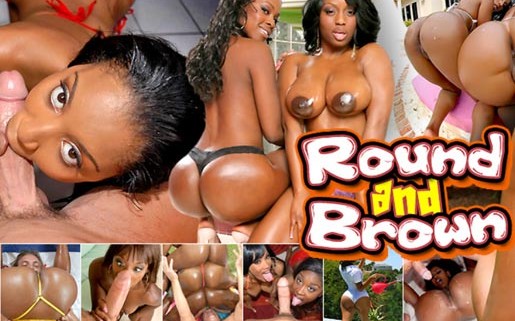 Intro
Round and Brown is for those who likes girls with a bit more of that junk in the trunk. Here you will find beautiful and sexy ebony girls, in lots to offer. Shiny brown butts, oiled up in thongs, twerking by the pool, on top of the car or in the hot tub. This branch of Reality Kings network brings on a fresh addition to the ebony category of porn sites. Showing off black girls who carry not just beautiful butts but also delightful personalities and charisma, you will meet the most entertaining stereotypes like, the hot sugar mama, that strong sapphire who in strength and confidence demands on getting that D! And of course, one cannot forget about that typical, humorous ratchet from the projects but who is now a total ghetto-chic diva, ready to shake up your butt-less world. Membership to Round and Brown will get you access to more than 9000 Reality Kings' network of actresses and models in their HD quality videos and photos. You will also be able to navigate for free on more than twenty other porn sites, focused on all different kinds of porn such as 8th Street Latinas, Big Naturals, MomsLickTeens and much more. Reality King is a known network mainly for its ability to constantly define and redefine certain niches. Be it black girls, big boobs or MILFS – they got it all done for you to enjoy through the sole membership of this one bootylicious adventure.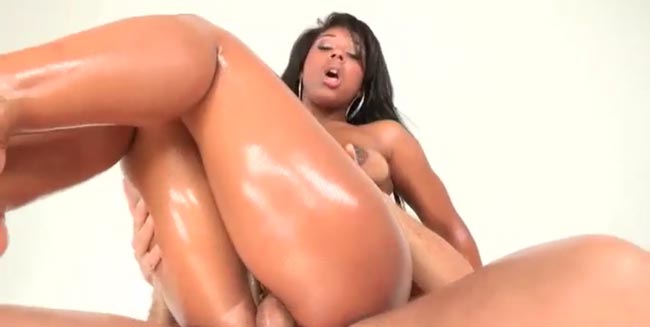 Website Layout
Never have I seen such a layout that screams ASS as much as Round and Brown does! On their homepage you will encounter a compilation of mostly ass photos in delightful, breath-taking positions, pleading you to enter them. If one thing is true is that these photos really give the appreciation a black woman's ass truly deserves! Placed in sexy and creative poses, in a row, closed up, next to each other or stashed up on one another as in one photo, these beautiful chocolate truffles, creamed up or just plain glossy will make you hard at a simple glance and ready to see what's good. The chocolate color desktop as a background to the pictures lined up one after the other also adds to this cozy feeling only a black ass can really bring to a man. These are in sharp contrast to the white, milky letters of the title, which couldn't give one more of a creative image. Most of the website work in that way, leaving you curious to wonder what is there to be found about these ladies' jiggly bombs. For a sneak preview, you can always check out the trailers of the girls on their profile where you'll find bootylicious photo galleries with hilarious titles and descriptions of their latest updates. As you enter the first thing you'll see is a picture of some girl's beautiful brown ass. Next to it you will find funny and catchy titles such as Juggabutt or Twice Ass Round. These feature seducing round-full goddesses in explicit and creative poses, always in the accentuation of what they have best. Although I am a big ass fan I must also say that it would be a shame to ignore the handful pair of brown jugs these women also carry in the front!
Models & Video Quality
These hotties have the booty shake expertise in equivalence to an earthquake's. In most videos you will encounter girls bouncing their delicious asses on huge cocks, on someone's face or just plain in the air. Get ready to become magnetized as you see them moving up and down, from cock to cock, mouth to cock and reverse. These men simply can't get enough! After playing with it all over in the kitchen, as done in Twice Ass Round with his two chocolate twinkies, Yassmine and Jayden, Preston indulges in these big booties after taking them to his living room. Each one of them, taking turns bouncing on his monster cock, in their firm, tight, asses, shining right in front of your face as they are closed up on camera- as they say, an asstacular time! Besides getting to see these big-booty bitches shaking and twerking all over the place, you will also encounter a humorous and heat-rising plot. For example, you'll find a classic situation where the girls are messing by the pool until the security guard catches them and starts messing around with all of them, turning the whole thing into a bootylicious shebang! Or, when the cleaning girl arrives but ends up getting all dirty with a pool of jizz on her face, ass, and tits! Hot fantasies like these will get your temperature rising and cock ready to explode! One also needs to comment on the sexy profile of these girls. Many of them in their busty tits and delicious brown butts showing off their bodies in bikinis, short shorts, lingerie, neon thongs and anything that works to accentuate their shiny and eccentric asses! I love how these filmmakers have creative and I must say, breath-taking ways to bring us to the attention of these big booties by oiling or milking them up, making them splash on the water or twerk against one another or by simply shaking on a guy's face. These bootylicious queens know how to do it and do it well. Besides having the nicest booties I have ever seen, these girls also have a sweet face with their juicy lips and eyes of a tigress.
Final Resume
What is best about Round and Brown is the quality of brown butts as well as the way it is chosen to come about on its high-quality photos and videos. Fetishizing black woman's ass has always been a thing but this website brings this to a whole new level. One visit to Round and Brown will certainly make you entranced and totally ass-gripped! There is a reason they say once you go black you never come back and this website certainly has one!

Back to the best pay porn sites or check these awesome porn review sites for further info about this one.
| Review Site | Evalutation | Trial Price | Monthly Price | Yearly Price |
| --- | --- | --- | --- | --- |
| | | | | |
| | | | | |
| | | | | |
---