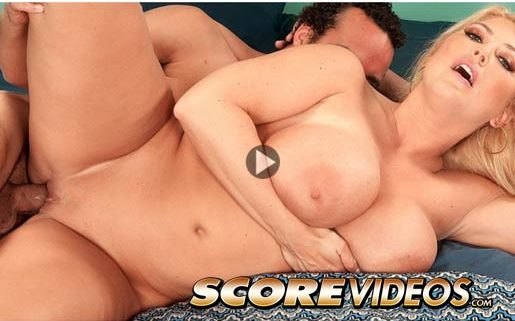 Intro
The ScoreGroup is an adult entertainment company, which started out with printed magazines, but as it adopted to the new era, several series and its DVDs' content have been added to different websites, all powered by the company. The ScoreVideos is one of the mega-sites of the studio, and it features several of its videos. We believe that you are going to find here extraordinary content, especially if you are looking for some truly hot big boobs.
On the ScoreVideos you can find a collection of scenes which has been added since the launch in 2002. There are weekly additions to this collection, so in case you have been searching for an ever-growing big-boobs' video database, you have just found the place. In case you were wondering, the site has exclusive content.
The videos are available in the Score Group's store, but there are videos that were created to be published online. You won't gain access to photos right after you join. As the site's name tells it's about videos. But if you remain a member, you can add other Score sites to your account, thus you can browse through the vast picture collection of the company.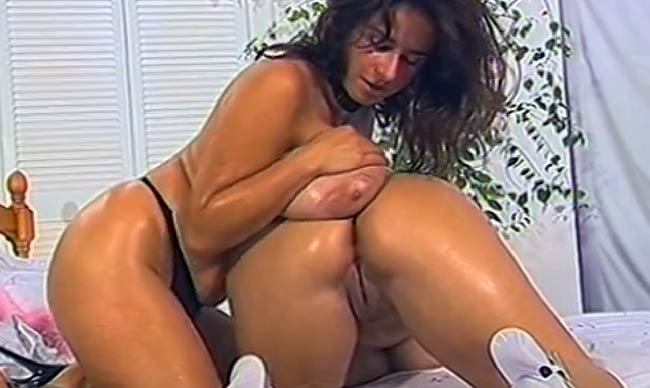 Website Layout
The home page of the ScoreVideos is what we expected. There aren't many options, you can only view some of the videos' trailers, and you may also open the models' profiles. These tour features will certainly make you curious about the collection, and in case you are looking for busty girls' porn scenes, you are that the right page. After going through the signup, you will see a nice, yet very simple inner page.
There is a model search option, you won't be able to take advantage of keyword tags, or categories filters. But, the models-based navigation is good too. From the main menu, you can enter the store, and if you have added some sites to your account, you can find the list of those too. They should improve the navigation a bit, but for now you have to live with it. Anyhow, the videos are really good, so you will probably focus on those instead.
The scenes of the site are all coming in WMV and MP4 format, where usually the MP4 grants the better quality. You are going to find here streamed formats too: the embedded player offers dynamic streaming, so you can enjoy the videos in a quality that best suits your machine and connection. According to what we found, we have to tell, the download options are truly varied: there are full-video downloads and clips too. The five-minute-long videos are good for those who have a fixation on different actions. For the full, and for the short downloads the site grants different formats, form HD MP4 files to SD WMVs.
Models & Video Quality
Well, the ScoreVideos models are the same ones you can see on most of the Score's site. On this portal however, they gathered the hottest big boobs' owners who are eager to get down dirty and hardcore. You will find here big-shots, newbies, and even some girls who left the porn arena for a long time now, as they were active back in the 90s and early 2000s. There are tight chicks here with large breasts, and we must say they look amazing. Their body is nicely shaped, and though they have big tits, they don't have extra fat on themselves. In case you are one of those fixed-minded guys who seek BBWs or somewhat full models, you should visit the site and browse through the models' index. One of the best things about this studio is that almost any kind of girl can shot videos with it or get a set of photos done. That's why the ScoreGroup's websites offer such a great variety of models. Apart from the regular fresh hotties you can find on porn sites, you can enjoy the watching amazing MILFs and some cougars on this site too. If you are a man with some fixations, you should take your time and explore this collection as it grants you a lot of pussies to choose from.
The videos of the ScoreVideos are done in a professional manner, and they grant you that kind of excitement you seek when you are looking for porn to watch. The ScoreGroup has a studio where these videos are shot, and during the circa 25 years of operation it has been kept up to date, though with only 720p shots coming nowadays, we must say that another update would be necessary. Those who enjoy hard sex and like it when cute girls are showing off their assets will find this selection porn to be exciting and enticing.
Though the scenes are captured by professionals, not everything shouts with professionalism: the girls are getting their pussy fucked hard but they are not always on the top as they are new to the business. Those who are more eager or experienced are riding those cocks, and they even get their asshole banged hard. Some videos are covering fantasies, while others are just all about having a good fuck – well, that's the main motivation in every video. There are mostly twenty minutes long scenes, which seem to feature blowjobs and hardcore drilling, but in a few cases some other actions happen too, such as anal sex or some worshipping.
Final Resume
The Score has several portals online, but this weekly updated videos-only collection is one of the best it can offer. There are more than 1000 scenes, and they keep on adding new. We don't think they are rotating content or whatsoever, however they might add some flicks from the archives, from the oldest scenes of the company.
Nevertheless the fresh videos are certainly hot, and they are going to keep you interested for quite some time. HD shots are not rare and it would be a shame to miss the photo galleries of the site that you can find on the other Score websites. The ScoreVideos is definitely a recommended one.