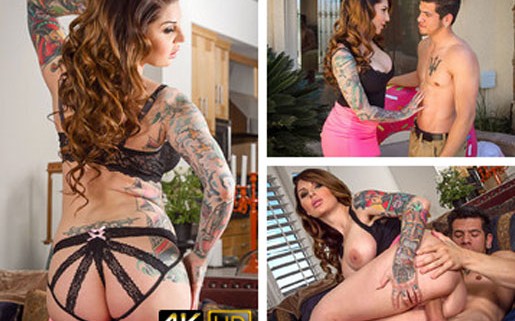 Overview
SeducedbyaCougar is the Naughty America network's site exploring sex between a woman and boy and sometimes between women and one very lucky boy. The site is for those of us who love voluptuous women in the prime of their lives, full breasted, plump bottomed, and curvy everywhere. There are no skinny girls here; however, there aren't any BBW's either. They're just the perfect 'Goldilocks' girls, not too plump, not too skinny, just right. Even better, you're not limited to the one site. Membership of SeducedbyaCougar gets you into all of the network's sites for the one price.
Naughty America has forty-eight sites (at the time of writing) with multiple weekly updates across them all and they have an online video and chat site called NALive for members to talk to their favorite models. Some of the sites you'll enjoy are 'Dirty Wives Club' where wives get to play away from home behind their husbands' back, 'My Girl Loves Anal' for lovers of everything ass oriented, 'Naughty Office' for sex in an office setting, which makes your own workday seem slow, and 'Naughty Athletics' where we can see how wrongly we've been doing gym and training routines; if I'd known this was how it was done, I'd still be working out. Or how about 'The Passenger', a sex site where a taxi passenger finds the driver he ordered is hot and horny and as interested in getting herself 'there' as she is interested in getting him where he wants to go.
Like all Naughty America sites, SeducedbyaCougar has fabulous girls and fabulous production values. These are top-notch movies, made exclusively for the site and, once you're a member they come to you without any interruptions or distraction – just as you'd want with sex in real life or in the virtual world. And, in fact, to make online sex even more astoundingly hot, Naughty America has just introduced 'virtual porn' for its members.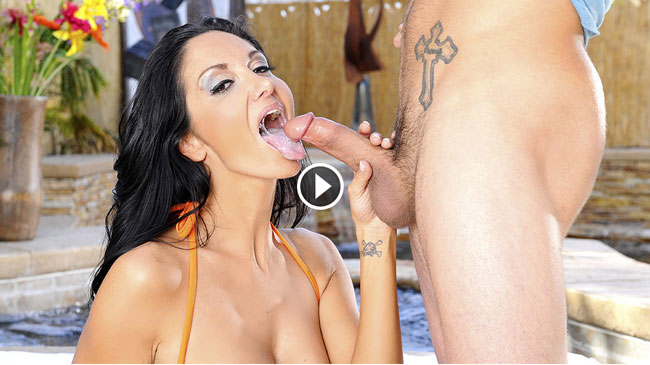 Design & Features
The way the Naughty America network operates is they use a single site design/layout and you go to the site you want using the various search features. Basically, the Home page is where everything happens. A menu bar on the header lets you select 'All (Naughty America) Porn Sites', Pornstars, Porn Finder, and New Porn. Below that menu are (1) a Site Map link, (2) a 'find the girls alphabetically by name' selector, and (3) a keyword text search box for when you know what you want to see but don't know who's in it or what the site or title is. If you selected a site, like SeducedByACougar, the information (images and text) you'll see on the page are all the latest updates for that site. If you selected New Porn, you'll get images and links to the network's latest updates, and so on. No matter which search feature you select, you'll get pages and pages of hot pictures that entice you to register. That may be too many choices so the site provides a Category selector for the Porn Finder tab.
The site features fast 4k downloading (videos and images) and streamed movies, all in glorious HD, to your desktop and laptop (for short term memberships) and, for longer-term memberships, to your tablet or mobile devices. They also provide a free Roku player to longer-term members for an even better viewing experience. In addition, they can be found on the web at their Naughty America Blog and also Facebook, Google+, Instagram, SnapChat and Twitter.
Girls & Videos
As befits a site where experience is paramount, they use well-known pornstars who have made a name for themselves both at Naughty America and many other sites. Stars like Kortney Kane, for example, whose ample boobs and butt and slim waist can be found gracing movies all over the web.
SeducedByACougar is placed in a quieter part of the porn pool where fresh chicks, Asian chicks, or ebony goddesses take up most of the space. However, mature women have an appeal that transcends the generations and the races, which means the site has plenty of pulling power. I think it stands out for a number of reasons, the womanly beauty on display, the quality of the movies and photos, and the uniqueness of the concept. It's a great way to broaden the horizons of the porn seeking public.
Naughty America has over 7000 1080p HD videos and more than 2000 pornstars on its sites, which means you're never short of titillation. Dividing all that up is no easy task but the site provides a quick, simple Categories selector under the Porn Finder tab. The best-covered categories include, 'High Heels', which has about 2150 scenes, 'Ass Smacking' with 1600+ scenes, and 'Natural Tits' with nearly 2500 scenes. A well-covered category I particularly like is 'Innie Pussy' because I like my ladies to be tidy in that spot.
Movies go by the name of the stars and the name of the site because each site is a well understood and described niche. Examples of their videos are, 'Jaclyn Taylor and JMac in American Daydreams' where a wife daydreams about having the mechanic working on a bike, and 'Noelle Easton and Johnny Castle in Tonight's Girlfriend' where busty beauty Noelle is invited to celebrate Johnny winning a pile of cash.