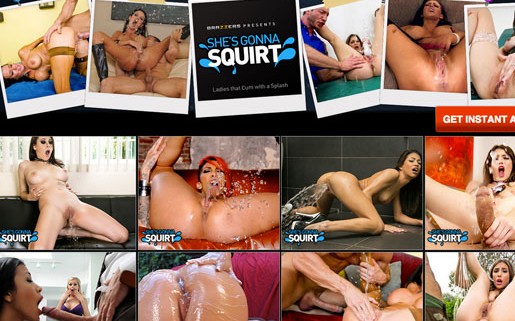 Overview
Getting a woman to squirt is not an easy thing to do. It requires a hard and long-lasting cock to get the woman to a very high level of excitement, so when she reaches the peak, she bursts out a large amount of cum from her pussy, covering everyone and everything with it in the vicinity. On She's Gonna Squirt you can watch heavy hardcore videos where the females are going off so hard that they scream and writhe with excitement and joy. They are not always able to stop, and the woman-cum covers literally everything, even the equipment used to capture the video. On this site you can find only professional videos where the hottest squirting pornstars of Brazzers are appearing and have some hard sex. You can enjoy hardcore straight sex, and some pretty nasty lesbian sex videos, where the chicks use long and thick dildos and strapons to make each other squirt. The video quality is a bit varied, since you may encounter some of the older scenes of the studio, but the newer flicks usually give a good HD or even Full-HD resolution. The girls in the scenes are all gorgeous, and they know what to do to be able to squirt and they are getting pounded as hard as it's humanly possible to make it happen. When you access the site, you also gain access to the whole Brazzers network, which is one of the most successful studios in the online porn industry. It produces only hardcore porn videos, and keeps up with the technological developments, and implements many of the new possibilities to provide the best quality that can be reached at the moment. The work of the studio is appreciated and recognized by the industry, the flagship site won multiple awards as the best adult site, and the videos have a large number of nominations.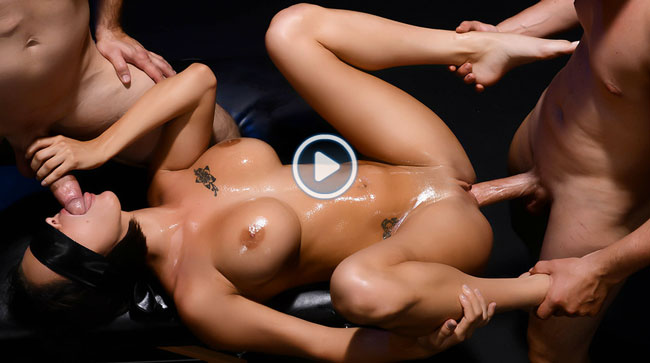 Design & Features
When you first visit the She's Gonna Squirt, you will hardly believe that it has such a well-known studio like the Brazzers behind it. The site is quite simple; there is a heading and a large pile of thumbnails, your only options are join or login. After registration, you land on the central members' are of the Brazzers network, which is a very advanced page. You can use a search engine, and there is a very good video sorter that can help you find everything you want. You can select to browse by release date, number of views, ratings, title and by IFeelHorny. To narrow down the search you can use time filtering, site filter and keyword tags. As a member you can download the videos in various formats and qualities, but the online player has some very nice options: you can watch the scenes in 1-minute clips, 5-minute clips, or jump right into the squirting. The quality is good, so if you want to download the flicks in HD or Full-HD make sure you have enough space. There are picture galleries available, and you will be happy to see that you can browse them in a slideshow or download in one pack.
Girls & Videos
On She's Gonna Squirt you will surely find the wildest women in the porn industry. These girls have some very sensitive clits and they are experts in female ejaculations. Fresh and beautiful, these girls squirt huge quantities when they climax. They look so sexy when they finish and you must see them in action! One of the beauties from She's Gonna Squirt is Sandra, a lovely fresh chick with short black hair and with a lot of tattoos on her body. She has medium breasts and a big and round ass. The clips with her are unique, because that chick can squirt so much. When a guy fucks her ass with his big cock, the girl has some huge orgasms. You will love the way she closes her eyes and her sexy voice when she is moaning! That woman is the best squirter in the world and you must see the clips with her! The women from She's Gonna Squirt are full of fantasies and they have a lot of sexual desire. You will see them dressed in sexy fantasy uniforms and you will be so excited about their sex skills. One of those is an amateur lesbian women, nobody knows her name. She is blonde with curly hair and a guy picks her up in the park. The man is very good with words and he presents himself as a doctor in women orgasms. The chick wants a consultation and the guy plays with her pussy, until the slut squirt all over his face! After that the dude puts his big cock in her pussy and in her ass and the woman has some multiple climaxes! You must check all the women from She's Gonna Squirt, because all of them are sexy and they will give you some unique porn videos! You can also find some amazing videos of anal fuck and group sex. They love to take cocks in all their holes and crazy to take cum inside their wet pussies. These chicks look great and you will love their facials expressions and screaming when a stud rubs their pussies and fingers their ass holes to make them squirt hard. If you enjoy watching squirting women then you will enjoy She's Gonna Squirt for sure!