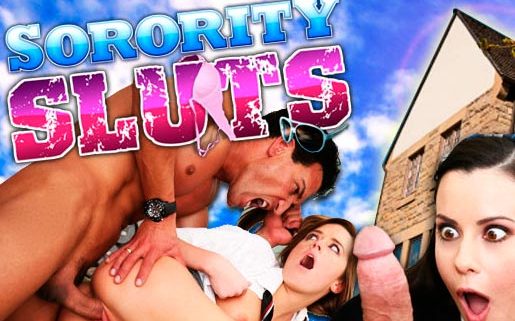 Intro
Our formative years are that moment of our lives when we were searching for sex opportunities with excitement and boisterous energy. There was no one to say what we can or can't do, or someone to impose a curfew on our actions and restrain them. And as it goes naturally with sorority institutions, one could find the sexiest and hottest girls living on planet Earth. Remembering of such a world must be a very strong excitement, right? We are going to present you the porn-site that features such material exclusively, namely we are presenting to you SororitySluts. This is the porn site that will offer you just anything regarding sorority sex fantasies.
Website Layout
Many porn sites do not give a special meaning to the aesthetic value of the design, rather they use boring adds and features that only spoil the overall experience of watching porn. Porn sites that are visible and clarified are the best to visit and browse, because your attention will not be hindered by annoying unnecessary clutters. SororitySluts has decent and simple design which contains only two colors – white and blue. White is used as the main background color to the site, which is why the content is clearly visible, while blue marks the font and link bullets, thus enabling you to follow the content in a truly well-organized structure.
Upon your entering the page, you will spot some nice sexy sorority ladies trying to catch your attention with their half-naked or completely naked bodies. You will notice the presence of notebooks, chalkboards and other items that are typically associated with sorority porn. Overall, the design of the site is made in a way that immerses you into the content of the site and prepares you for what follows. There is a smooth flow upon entering the site to the actual content browsing and watching. If you are a lover of such simple designs, then SororitySluts design will be your favorite one.
When talking about the quality of the porn-site, we have to say a few words about the video format and resolution as well. If you decide to subscribe to SororitySluts, you can watch and browse more than 1800 porn flicks. The number is intriguing enough by itself, but this is not all that you get. You can opt to stream these videos online by using the site's embedded player, or simply download them on your personal devices and watch them without the need of Internet connection. All videos are available in HD with resolution of 1280 x 720 @ 3200kbps. This will allow you to enjoy great porn content in a relatively high resolution quality. Your overall porn experience will be improved by these awesome features the site has to offer. If you are indecisive, check the site for yourself and explore the content it has to offer to you.
The videos are listed in a single array format, with a title at the top, the porn star featured and a few images of the video. The trailer can be checked out, so you know what to expect.
Models & Video Quality
Since we have mentioned the technical aspects of the site, we can now easily progress toward the most interesting part of the review dealing with the actresses on SororitySluts. You will find all your fantasies becoming reality in front of your eyes, causing your penis to rise from the strong slumber. All the girls that you are about to watch are unapologetically horny and prepared to go at any length just to take out every drop of cum from those monster cocks fucking them. They will seduce the man, slowly take his clothes off, make his cock hard enough to penetrate their tight pussies, only to take advantage of it all night long. These amateur girls are excellent at seducing men. All they need to do is spread their legs, make provocative movements, and then the man irresistibly falls into their trap. Their innocent-like nature will turn you on instantly and make you horny enough to ejaculate as hard as you can.
SororitySluts offers porn content in accordance with your mood and preferences. You can watch wild energetic sex in which the girl is vehemently penetrated by a monster cock. You can also enjoy girl on girl action, where two lesbians finger, lick and penetrate their pussies with their fingers. No matter what kind of video you chose to watch, you will be utterly satisfied and relieved of all cum waiting impatiently to be taken out. The girls that you are about to watch have well-shaped bodies, perky breasts, and the kind of butts that spank hard when their vaginas are penetrated. Overall, the site features the best porn content to be found on the Internet these days with the most erotically attractive girls in the world of pornography. Difficult to believe in? Visit the site and explore its content to acknowledge what we are trying to say here. This site is astonishing, and you will love every aspect of it.
Final Resume
For a conclusion, we would say that SororitySluts is the kind of porn-site that will not let you disappointed after you visit it. The design, layout, videos and girls will make your masturbating experience flourish with strong climax such as never experienced before. All other porn-sites you were used to watch will seem mundane and ordinary after you discover the content of SororitySluts. This porn site puts professionalism as the key focus and the satisfaction of the viewer as a paramount goal.
Subscription to the site will give you access to many other porn sites in the network, and a significant discount for a long-term plan. Our verdict is: become a member today.

… or check these awesome porn review sites for further info about this one.
---