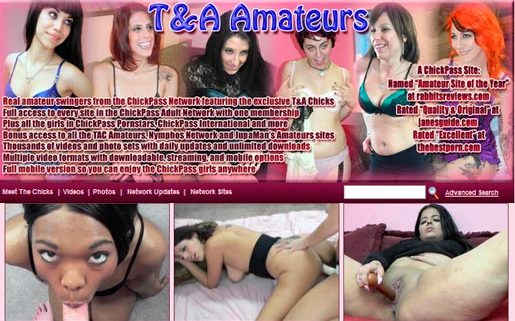 Intro
The TandAAmateurs is an awesome amateur porn site from the ChickPass network, which grants you access to a huge collection of sexy amateur porn videos, along with a big pile professional porn. On TandAAmateurs, you get all the excitement you seek, especially if you like amateur porn. This amateur porn site review will tell you everything you need to know about the awesome TandAAmateurs.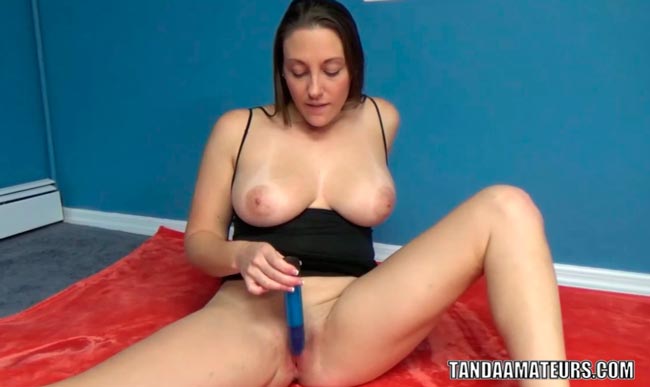 Website Layout
Well, the TandAAmateurs doesn't look too good. Its design looks a bit archaic, but at least there are nice features inside. As they say: don't judge a book by its cover. It's also true for adult sites: don't judge them from their tour page's design. After all, the good stuff – just like when it comes to people – is inside! In a few cases, and old-fashioned home page predestines what we will find: a fixed collection, with no new updates. Well, on the TandAAmateurs, that's not the case! You are going to see here some sweet porn videos with hot amateurs, and they keep on adding new ones regularly. This site launched in 2004, so it's an older portal, and its design certainly tells you that.
However, it has no abandonment issues, and it is part of a huge family of sites. The ChickPass Network is a huge one. There are 90 or more sites listed, covering hardcore amateur porn, and of course, some professional stuff is to be found on these sites. This network includes multiple networks, and the membership on the TandAAmateurs grants you full access to this mega-collection. You will find thematic sites with the "TAndA" prefix: these have collections based on different niches. For example, there are "tanda"-sites with only blondes, Asians, Latinas, housewives, and a few more. And, apart from this, about 80 additional sites await you to use your sticky hands and browse through their collections. On its own account, the TandAAmatuers has more than 2,700 scenes. The overall amount of porn you actually gain access to is much higher. There are new videos added regularly, mostly coming in daily, or in the worst case scenario thrice a week. Some of the videos are not exclusive, but if you look at the big picture you will see that the biggest part of the collection is exclusive,
The inside of the TandAAmateurs might be familiar if you used to browse hardcore amateur porn sites. This is a simple, but perfectly usable template, which grants you all the basic tools you need to find some hot content. Here is an overview of the tools you get access to: search with advanced search option; categories list, girls' list. Apart from these, you can also use a dropdown to choose which site's videos you want to check, and you have a few other menus taking you to the nice bonuses. The video quality is somewhat inconsistent. You are going to find old videos with only 480p resolution, but as you advance from 2004 to 2017, you can see a strong improvement in quality. Nowadays, they mostly add 1080p scenes, featuring the hottest amateurs they could find. The scenes are streamed and are offered for downloading in MP4 format. Most of the videos have a set of digital photos attached to them. You can reach the gallery from the video's page. Zip file downloads are granted, so it won't be too hard to build up your collection of sexy amateurs' photos. There are no limitations on the downloads or whatsoever, so if you have a great ISP, you can grab everything this site, and the network behind it can offer you! In the members' area, there is a button on the upper right corner, saying "Mobile version": if you poke it, you can view the content easily on phones or tablets. 
Models & Video Quality
The site claims to have amateurs to entertain us. However, it's only somewhat true: many of these hotties have several videos shot with this company. It's true they don't have enhanced breasts and they seem to like sex as it is, but their experience gives us a headache. Well, we have to say, these girls aren't overplaying their roles, and if you like to watch as sexy girls showing off their skills in hardcore sex videos, you are going to enjoy what these portals have. You are going to find here many sweet girls, but the number of sexy housewives is astonishing.
There aren't too heavy niches covered by the videos, we could even say, the sex is a bit average. Every girl gets her pussy drilled, and in some videos, they just do some harder solo action. You are going to like the scenes of this site because the sex in them is honest and real. We have seen some quite hard scenarios too, and after all, we must say: the whole collection is worthy of attention, so check out the older, and the newest scenes too!
Final Resume
When you open the videos of the TAndAAmateurs, you are going to see that it delivers what it promises. This site is old, and though it has old content, more and more 1080p scenes are coming in on a regular basis, so the quality increased a lot in the past few years. The videos are not amateur-made, only the models in them aren't porn stars. This won't be an issue for you because the fact that you read through this review tells us about your field of interest. Amateur porn from the ChickPass is good, but don't forget to check out the included great bonus sites. After all, there are more than 90 of them!

… or check these awesome porn review sites for further info about this one.
---