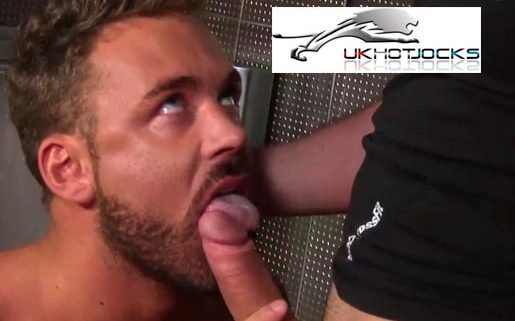 Intro
Whatever your gender is or whatever your sexual orientation is, it is difficult to deny the fact that gay porn is hot, especially if your throw in a couple of masculine, well-built, gorgeous men with massive cocks to boot, you may not be able to feel it but, in just a matter of seconds, you will be drooling all over the place, figuratively of course. Gay porn is one of the most popular category in the adult entertainment industry and UKHotJocks is the gay porn site that will show you the reason why that is, they have sexy men with British charms that will captivate you once they start undressing and start sucking.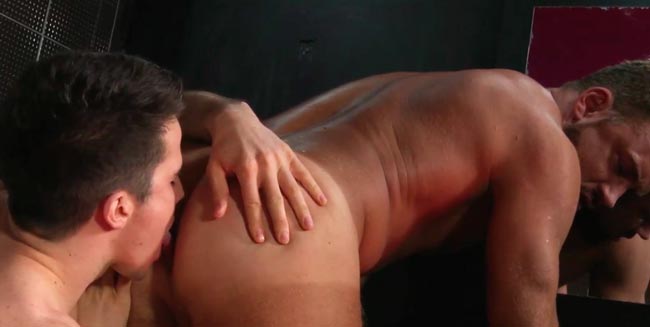 Website Layout
The site has the colors white, blue and red all over it which screams Britain just by looking at it, and it also says a lot about its models. The pictures on the site are of the highest resolution which is evident with the pictures at the top most part of the site, it shows dominant men and the submissive ones which are very common in gay porn.
The site has 25 high definition movies that can be streamed or downloaded by members, each of the movies have a brief summary of the story, the site also has a page that has the profiles of their models, as of this month they have about 90 hunky male models and included in their profile are their names, age and where they came from.
They also have a customer support hotline that you can call in case you have any inquiries or questions regarding the application or the site, they are available 24/7 or you can also send them an email.
Models & Video Quality
In one of their videos models Anthony Naylor and Dmitry Osten shared what seems to be a stage, they starred at each other while the lights and cameras focused on them, they started to kiss each other passionately as they trace each other's muscles and abs, Dmitry then licked every curve of Anthony's body, tasting him. They were both into rough sex as they slapped each other's butts and sucked each other's cocks until they came, they also pounded each other's asses like they were pounding a pussy and the video ended with the both of them tasting each other's cum.
Another video on the site showed a threesome that includes Nathan, Steven and Kayden. All three of them met up at a train station, they chatted for a while and they went back to Steven's place, after a few drinks they suddenly talked about whose dick is the biggest, as they accepted the challenge to show who had the biggest cock, all three of them fished their dicks out of their pants, they started comparing their cocks and they were wanking as they looked at each other's man meats. While they were wanking, they kissed each other and they touched each other's cock, taking turns in giving each other a handjob, Kayden sucked Steven's monster cock as Steven and Nathan kissed, Steven pushed Kayden's head deeper so that he could get more of him while his other hand was busy giving Nathan a handjob. Since Steven has the biggest cock, Nathan and Kayden took turns in giving him blowjobs. After a few minutes, Steven went down on Nathan, sucking him and licking his shaft while Kayden was doing the same to him, Steven and Kayden simultaneously sucked dicks while Nathan held their heads, keeping the pace and controlling the movements of their blowjobs.
All three studs took all of their clothes off, making them all completely naked on the sofa, their threesome continued as Steven sucked Nathan's cock and he played with his balls while Kayden positioned the tip of his dick into the Steven's ass, he slowly inserted himself as to not break the rhythm of Steven's blowjob on Nathan and when he got all in, he grabbed Steven by the waist and he started pounding him. Nathan then reached down and gave Steven a handjob as Kayden was fucking him in the ass; his other hand was still on top of Steven's head making him go as deep as he wanted him to go. They then switched places as Steven fucked Kayden in the ass while Nathan sat on the floor so that he could take Kayden's dangling dick in his mouth. Each movement that Kayden made because of Steven's thrust made the dick go deeper into Nathan's mouth. He also sucked his balls and played with his shaft. Then it was Nathan's turn as Steven inserted his erect penis into him, while Kayden did the same to Steven, as Kayden was thrusting so was Steven and it created a perfect pace for all three of them, their moans and grunts were loud as they went faster and faster. They started jacking off again as they gave each other a blowjob every few seconds, Steven was at the center again, there was even a point in the video wherein Kayden and Nathan shared his cock, they also kissed each other passionately again as all three of them roamed their hands all over each other's body. The video ended with all three of them cumming at the same time, shooting their load at each other's stomach.
Final Resume
UKHotJocks has absolutely the best male models, not only do they use the hunky ones, but they also choose those who have massive and juicy cocks, and because of their complete package their videos will automatically give the viewers the chills, and it can make you incredibly horny.

… or check these awesome porn review sites for further info about this one.
---