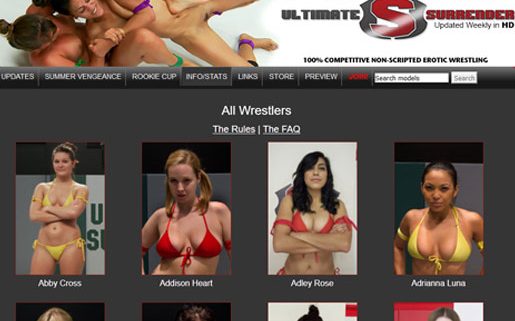 Intro
UltimateSurrender is a unique fetish site that features women in wrestling matches just as it happens on the mother site. Kink brings you hot steamy action that features a mix of sexy wrestling duels and lesbian action. The videos are crisp clear content that feature attractive hotties and a host of competitive stunts with full statistical data on the seasons and the winners for the duels.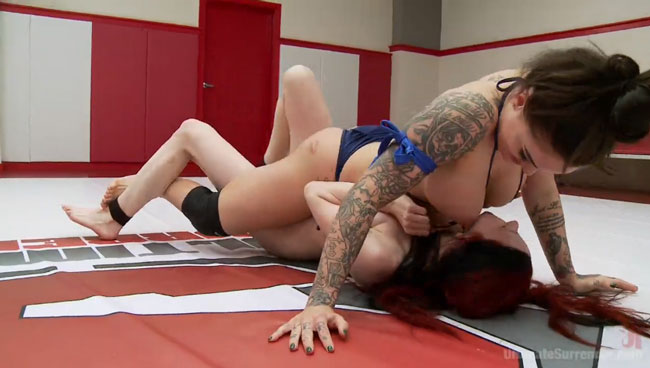 Website Layout
UltimateSurrender is user-friendly and sports several helpful user tools including a model index, a list of categories and a free trailer to help visitors tour the content on the platform. You can navigate by checking out the 12 seasons of female wrestling since its inception. Although I did not see any search tool in site, it was quite easy to navigate the content on the platform. The quality of the videos and photos is impressive; especially the latest flicks. There is a mountain of content to savor. Although you are not provided with bonus sites, subscribers are given a discount entry to the other Kink network sites. I could access the content on the platform via my mobile phone with relative ease. The loading is fast and seamless. You are treated to a decent amount of updates and a host of wrestling lesbian fetishes. There is a great variety of entertainment stuff to sample. You are treated to great quality exclusive content that will titillate you to the max with girls' sex wrestling, fingering and sucking each other's cherries.
Models & Video Quality
You are treated to a host sexy wrestling encounters on the platform; full with a referee and the contestants. There are no dudes here; just the space and time for hot girls with an appetite for sexy hot wrestling. Here is how it works; girls are pitted against each other in wrestling lesbian scenes. Once a girl is floored, she often submits to teasing and some fucking by her mate. Indeed the sessions turn into quite steamy and hot thrillers as the surrender leads to stimulating lesbian action that unfolds into tenderness and blissful romantic kisses. There is a consistent train on the unique lesbian theme on the platform. There is plenty of toy work, strap-on sex encounters and licking cherries. You will love the way the scenes play out. The referee keeps track of the game and controls it. There is a clear record of the events and the schedule for tournaments. The scenes vary in sex encounters. You can opt for the scenes that present you with one on one sex wrestling or threesomes or group sex orgies that come smoking hot with action. You are treated to interracial encounters too. I should have mentioned that the wrestling matches do not require any special costumes; at least not the special costumes you and I are used to. These girls get into the ring nude in their birthday suits. I guess this makes the sex part all the more easier. It happens right on stage once a girl has surrendered. You are treated to a sudden change of mood and speed. The girls get down in steamy sex sessions as though there was no duel. You have sufficient content to check out on UltimateSurrender. Check out over 740 scenes that come with a 40 minute playback time for each flick. The files are in great quality WMV, MP4 and Flash Player formats. You can also check out an equal number of images with over 200 photos per set. The files can also be downloaded in a zip file. There is no download limit.
Final Resume
You are treated to a variety of hot steamy sex action that features girls in wrestling matches. The quality of the videos is worth your while. Most of the flicks come in full HD. The content is also exclusive.

Back to the best pay porn sites or check these awesome porn review sites for further info about this one.
| Review Site | Evalutation | Trial Price | Monthly Price | Yearly Price |
| --- | --- | --- | --- | --- |
| | | | | |
| | | | | |
| | | | | |
---