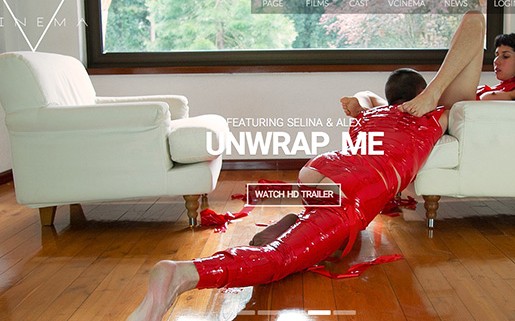 Overview
For a long time, people debate if porn can really be categorized as art. With the shooting elements focusing only in the sexual performance, lack of a real script and with camera work and production being almost too similar, there are few companies who can truly provide a unique view into the adult industry, making porn real art that explore more than simple trusting and hip movements. With a bold and interesting promise, VersoCinema is one of these companies who targets a new approach into the old formula with professional scripts, well selected performers and directors with wide knowledge of cinema and an always-improving mind. Believing the Adult Industry has stagnated in its own elements and sexual language, VersoCinema objective is to explore and reinvent the adult industry model, applying art, sensibility and professional cinema expertise to their product.
Design and Features
VersoCinema's sites design is absolutely enviable. Its menus are well displayed at the top, with gentle transparency, the slideshow preview wonderfully some of the scenes in artistic and high quality pictures, guaranteeing a good first-impression for new visitors and a constant clean look for members. Accessible with TV's, tablets, smart phones and PSP, the mobile site has a similar modern look, with easy to understand interface and fast browsing. The homepage also provides the last updated films with respective description and cast, highlighted cast of actors, a list with the most popular films and last news. The cast is portrayed in an almost absurd care in artistic wonderfully edited pictures, with a brief description detailing the personality of each one of the models and featured videos. You can also see how many members favorited and saw the respective model page, a nice feature that gives you a hint about popular actor. The films section has a similar organization, but it manages to distinguish from other sites by making professional and artistic and individual poster for each one of the scenes. Beautiful and elegant, the selected posters resemble the cover of professional art or modeling magazines, adding even more style to the site's design. Members can Stream or Download the films, with HD resolution. The downloaded file format is .mp4, in 1080p HD quality, preserving the incredible well-shoot scenes. You can also have a better glimpse in the producers' intentions in the "about" page, as well as discovering the directors responsible in translating the sexual act into a new and more elaborated language. The modern and dazzling design of VersoCinema's page is truly unique. The access and browsing is fast and intuitive. The sexual images are shown with a genuine objective to demystify the sex act as a taboo, turning sex interactions in a graceful activity worth of appreciation. In question of design and presentation, VersoCinema is second to none.
Girls and Videos
Now we can talk about the big differential between VersoCinema and the other websites: the models and the elaborated shootings. If you think the site designs and presentation are well-made and rich, you can expect even more from the selected models and the quality of the videos. The actors are handpicked and show great spontaneity in their profile pictures. Each one of them seems like professional models from fashion magazines. The cast is European, mostly with modern looks with tattoos, piercings and well-made beards, resulting in an exotic contrast of innocence and lust. In the profile page, you get a brief description of the cast personality and preferences. The peculiar characteristic in the actors is that they're really actors! They don't improvise cliché scenes for mere formality, they made you believe in the character they're interpreting, preserve an authentic sense of professionalism in the script and interactions. That's the real product of VersoCinema: to provide professional movies, including the shooting and script, with sex. It seems almost silly to state that as an exclusive product, but comparing to the mainstream porn, the final product of VersoCinema is indeed incredible and extremely rare in the industry! You will not see in any XXX site the quality and movie-oriented shootings provided by VersoCinema. There's a constant feel of watching a European movie that you can see in a regular theater, but suddenly, you're surprised by explicit sex scenes! So you get a subtle, yet chocking result in the end. About the technical aspects, VersoCinema delivers masterfully shoots, creative angles, almost impeccable direction and a great array of settings. You can sense it even in the trailers, condensed pieces of art. VersoCinema's product is so close to cinema movies that we can even wonder if they made full scripts and story-boards to better define the camera angles and perfect cuts. Not that other adult directors and photographers don't have the expertise for making a professional scene, but there's too much restriction that the usual porn movie seems almost identic in every aspect. VersoCinema's breaks the stereotype, destroy the limits to professional adult movies and preserves its uniqueness of details. An incredible feat to a brand-new adult company. The sex performance is unique as well. Tender or slightly aggressive, the actor seems like real persons engaging in sex, not Olympic athletes in impossible positions. That contribute even more to the real tone of the scenes. If there's something to let you down is the present number of content. By the time of this review, the site offered 13 exclusive videos to its members, promising weekly to monthly new videos. That's not a negative characteristic, as the producers are trying to deliver well edited scenes, with the proper post-production you can expect from a cinema movie. That being said, is understandable the initial little library.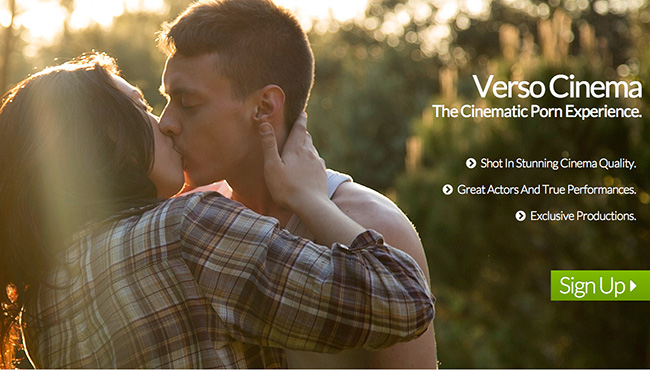 Conclusion
If you're looking for real professional porn movies, crafted to provide you a cinema experience, using real scripts, talented and beautiful models, designed with modern concepts, VersoCinema is the best place to go. We can't think of any other site that can offers sex scenes so well-elaborated, with a peculiar art sense and astonishing final product. It's a new way to see porn and to mix it with art cinema, directly from the mind of directors that care about the aesthetics and technical elements. There's a genuine worry in translating sex in a new language, providing movies with context, quality, immense production value, and of course, sex. A true gem.

Back to the best pay porn sites or check these awesome porn review sites for further info about this one.
| Review Site | Evalutation | Trial Price | Monthly Price | Yearly Price |
| --- | --- | --- | --- | --- |
| | | | | |
| | | | | |
| | | | | |
---