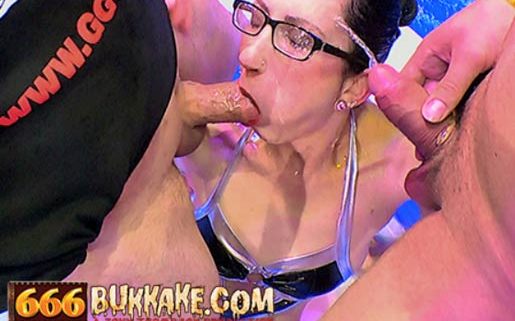 Intro
Piss and cum are the secret nectars all sluts crave for. It is also one of the utmost signs of submission, and yes! These girls want to submit. 666Bukkake is a site filled with hot amateur sluts ready to drink any amount of piss and cum they are given. This is one of the greatest hardcore fucking territories.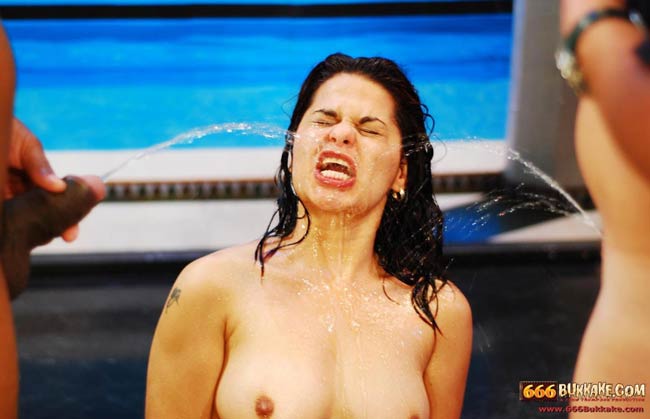 Website Layout
666Bukkake home page contains all the latest releases so you never miss what is new in this world of hardcore fucking. Each video is accompanied by a little summary of the video content. The design of the site might look a little bit loaded at first but on a closer look, everything is pretty well organized. Everything is organized by categories from "Amateur" to "Gonzo" so you always can go to what you are looking for straight away. Each video also has info on video length and the name of the performers, so if one girl catches your eye you can easily look for other videos of the same model.
The dark color background let the images pop up and catches your attention right away. You will never be distracted by an obnoxious background on this site, thus it is very easy to navigate on your PC. The optimization for mobile devices could use some work. All in all everything's pretty basic and with only three main options "Downloads", "Images" and "Streaming" everything is just one click away.
Models & Video Quality
The girls in 666Bukkake are some of the sexiest and nastiest girls in the industry. They are basically willing to do anything to quench their thirst for cum and piss. Most of the content is focused on Piss/Cum action and group sex scenes. So if that is what you are looking for 666Bukkake is the site for you. Productions values on the scenes could be a little bit better. By today standards some scenes look kind of dated but that does not reduce their impact.
Most girls are also amateurs. You will find very few well-known names in this porn genre, so with the exception of the fantastic Annette Schwarz, the 666Bukkake catalog of girls in comprised of unknown names. The site offers a mix of HD and SD videos. You can easily find which videos will look better by their production date, which is displayed on the info card of every video. Obviously, newer videos are full HD with very good resolution. On the other hand, the older videos might not fall into today's quality picture standards but are still well worth the watch.
A total of 129 videos are at your disposition and a total of 79 image galleries focusing on the same Piss/Cum action are also part of the offer. If the lack of a total HD video catalog makes you frown, do not worry. The site balances this issue by giving full-length scenes and I mean "full length". The average duration of every video is 60 minutes and then it goes beyond to even 1 hour and 30 minutes per scene. Those are long scenes by any standard, more material for your money's worth. I could not confirm the format of the videos but newer ones will certainly fall into the MP4 format as it is almost industry standard at this point.
The side has three membership plans including a 2-day trial offer. The membership will give you access to every bit of content on 666Bukkake and also free access to their bonus network.
Final Resume
666Bukkake is a site not for the faint of heart. We are talking about full Piss/Cum Hardcore action here and for everyone who finds pleasure in seeing beautiful girls getting a nice long shower of cum and piss, then this is a good site where to spend your money.