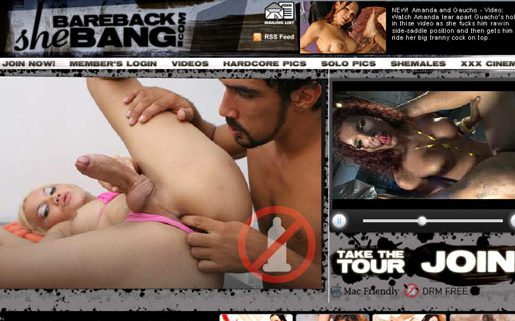 Intro
BareBackSheBang is a porn site dedicated to those of you who are interested and like to watch shemales being fucked by guys and also fucking guys. For those of you who don't know yet what shemales are, they are trans women with male genitals and boobs. If you would see a shemale next to a woman, both dressed you wouldn't spot the difference. So if you haven't had the chance to see this type of videos, you should definitely check out this site and maybe you will start liking shemales.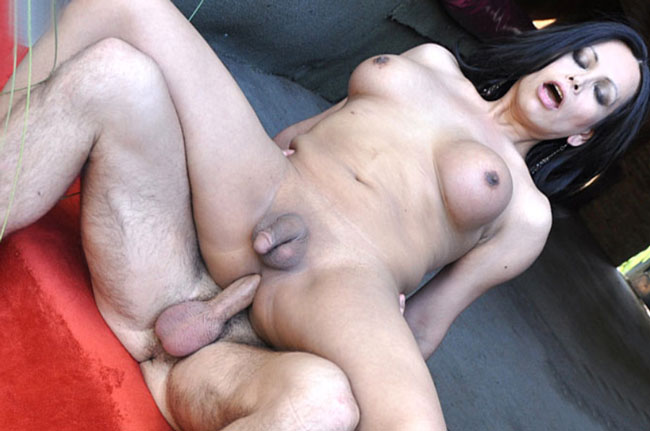 Website Layout
The Home page offers you all the information you need to make an idea about this site. A slide with high-quality photos from the hottest scenes on this site is waiting for you right next to the trailer of this site where you have some cut scenes with the highest rated models. The slide has also a message telling you that in these videos condoms are not used because these shemales like only raw cock. Below this you can see the sites you will have access to after you make your membership for BarebackSheBang. ShemaleCandy, TrannyPoppers, and UltimateTgirl are waiting for you as a big bonus. Also, on this page, you will see some hot videos presented in a cool way. The description of the video will make you understand before starting the video how great is that scene, and you can choose the definition of the video (300, 768 or 1800). The videos are presented with 4 photos from that scene that will give you an extra boost before watching the video. There is more on this page! Below these presentations, you can see the latest updates from the bonus sites so every time a new video is added you won't have to switch between sites because you will have the opportunity to watch it there. And last but not least, 4 of the member's favorite videos are presented on the bottom of the page, with their title and ratings written below the cover photo. The Videos page keeps it simple enough for you to be able to find exactly what you need. Sorting the videos by Name (A-Z or Z-A), Newest First, Oldest First, Most Viewed or Top Rated is going to ease your searching. More than 20 pages with hot videos are here for you to navigate through. Every video has its description. You can rate them in order to help others choose more easily and you can also add it to favorites and create your playlist. Another feature is the Hardcore Pics. Here you have sets of high-quality photos with hot shemales getting fucked. 30 sets per page and more than 3 pages are waiting for you. Rate them and feel free to download as many as you need because all the content from this site is downloadable. The Solo Pics page is pretty similar with the Hardcore Pics because it also provides you with photo sets but this time, only with one shemale. So if you have one in mind, go ahead and check him. Save the photos on your phone, tablet or computer because this site is friendly with any device. The Shemales page is where you can navigate through all the models on this site. You can also sort them by Name (A-Z or Z-A), Newest First, Oldest First, Most Viewed or Top Rated. Shemales have their own profile and by clicking their photo you will enter there. On that profile, you can see all their videos, solo sets or hardcore sets. You can also see their rating and you can rate them yourself. On the top of every page is the logo of this site which is written in black and the background is pretty scary just to make you feel a little bit of the hell you're going to watch here. On the bottom of the Home page, you have important links to Customer Support where you can ask any question related to your membership or this site and the Privacy Policy and Terms of
Service in order to understand anything you need to know about how safe and secure this site is.
Models & Video Quality
Stephanie is a hot brunette shemale with big tits and a round ass. She likes to fuck guys and give them a nice juicy deepthroat but she also likes to be fucked in her tight ass hole. Stephanie is a huge fan of doggy style because she can play with her cock and also the guy can grab her balls and massage them. This shemale should definitely be checked out by everyone. Angelica is, like her name says, a very cute shemale who likes to be dressed as a good teacher that hides a secret: she will make all your dreams come true. Skinny but with a round ass, Angelica is kind enough to show you everything you want to see. Ana is a beautiful bad bitch blonde shemale. She has a really fit body and her abs emphasize her bib boobs. She can ride that cock all day and especially all night because she asks for it only with her look. Being fucked by Ana with those tits looking directly at you is probably the hottest thing. The entire content is the best quality. Don't forget that you can download as many videos and photos as you want. Here you can let your inhibitions fly away and play with your cock while watching these hot models being fucked and also fucking some guys.
Final Resume
BarebackSheBang is one of the few sites which are dedicated entirely to shemales. This fact makes this site really unique and this is one of the reasons you should try it. Even if you haven't been interested in this type of videos before, there is a big chance you will start to. These videos are something you don't see every day and it is absolutely interesting and exciting watching them. Don't forget about the bonus sites and feel free to make a membership for 1 or 2 days in order to see clearly if this site is what you need.
"The website is actually close. Try also LADYBOYGOLD"