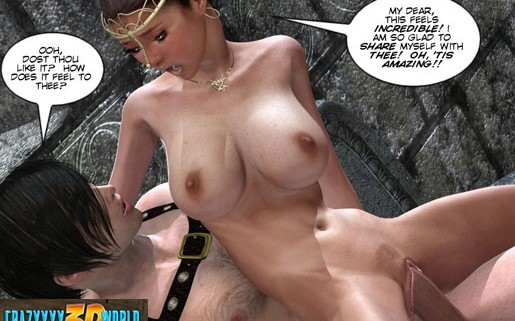 Intro
If you have a knack for viewing pretty milfs doing their flesh thing in a different world, then crazyxxx3dworld is your best entertainment destination. Well, I need to alert you that this is adult entertainment platform with a unique and unconventional twist. It is entirely artistic comic on the porn scene. It comes with a rich mix of real world fun and quite a lot of fantasy.
Website Layout
The site adopts blue and black colors as the predominant décor colors. You get an impression of creativity and art immediately you visit the site. There is a good attempt at presenting a user friendly layout. One of the most impressive features on this site is the Flash Tour widget. You quickly get a flash preview of the content on clicking on this feature provided on the landing page. There are WMV videos to stream and download. You can view all content on both mobile phone and PC. The content loads at respectable speed too. Given that the site adds new content once every week, you are assured of something you haven't seen the next time you visit. There is no search tool on the site but since it is an art based content site, I figured it is their unique way of artistic presentation. There are no extras either. However, you are treated to a significant number of videos and pics that keep you entertained for quite a while. As you might have guessed there are no live cam provisions or bonus sites to explore. I guess the nature of the exclusive content makes it hard to find like-minded sites. Live-cam shows would not make sense either.
Models & Video Quality
Generally, the models look great. I love the sizeable breasts and the sharp nipples; often spotted popping out of undersize bras and designer tops that wind their journey just below the neckline. The fucking episodes are equally entertaining. You get to view the girls spreading out their legs for, rather, slim looking men who are all too eager to froth up the inner warmth of the girls' honey pots. The comic models engage in normal but sensual activities reminiscent of contemporary porn sites. I had satisfactory view of several scenes of girls sucking cocks of normal men. A little fantasy is central to the content on crazyxxx3dworld. There are scenes in which aliens move in on the girls and perform sexual rituals and fuck with them. I was impressed with the introduction of fertilized women enjoying the sensual parties as they sit bend and lie while they screw around with all sorts of creatures. If you've ever fucked a conspicuously fertilized woman, you know that they can be extremely sensual and focused. There is sufficient nudity that provides a three dimensional view of the sexy milfs as they go about in sexual hunts and posturing. If you have an appetite for BBWs, this site supplies enough scenes that titillate the sensual glands of the likes of you. I love the curvy figures with juicy-looking bums, the hot girls from varying racial backgrounds, and the vigor with which they fuck with men and fellow girls. Oh, I forgot to mention that the site makes a commendable attempt at providing variety; from lesbian pairs, heterosexual scenes to group orgies with both humans and alien creatures. There are 946 video scenes with a one minute playback time each. If you wish to view still photos, you have a rich reserve of over 946 galleries featuring 60 pics each. The videos are in WMV format for downloading too.
Final Resume
Crazyxxx3dworld is an outstanding comic animated graphics porn site that specializes in fantasy and artistic impressions of the human and alien world. There is a lot of variety, lavish presentation of sexual style and creativity in the scenes. I think it is the only 3D porn site that takes imagination to such extraterrestrial levels of fantasy online.

Back to the best pay porn sites or check these awesome porn review sites for further info about this one.
| Review Site | Evalutation | Trial Price | Monthly Price | Yearly Price |
| --- | --- | --- | --- | --- |
| | | | | |
| | | | | |
| | | | | |
---