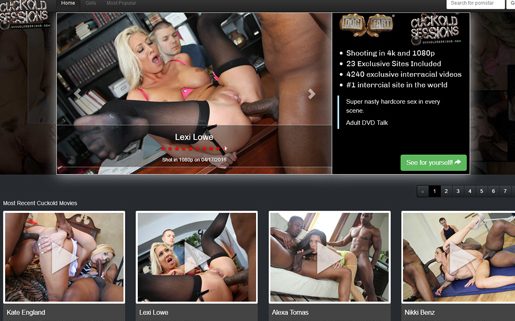 Intro
CuckoldSessions is one of the best interracial websites on the internet. As the name says, it specializes in getting some beautiful professionals cuckolding their partners with some fit stud of a different race. As the men assist to all the action going on, it is hard for them not to want to participate.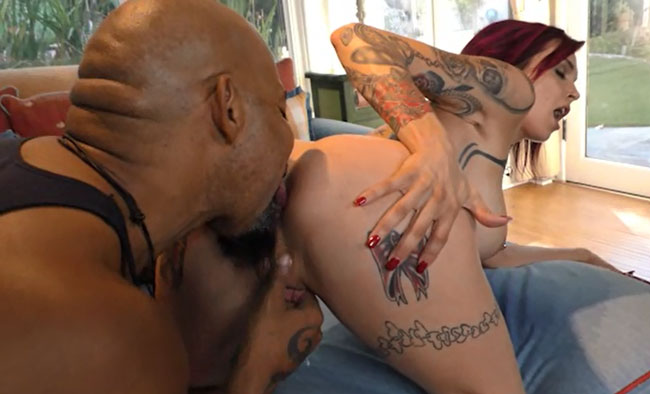 Website Layout
CuckoldSessions is a website that is part of the infamous DogFart Network, so it is a given that quality content is not an issue. The website is easy to navigate and it looks really professional. In the upper right corner of the website there is a very useful feature, a search bar that allows you to search for content by pornstar. The menu is not very clustered, which is a good thing. You have the homepage, the girls' gallery and the most popular content page. Under the menu and logo you get a banner with changing screenshots. I really like that these screenshots have some text, telling the user in what quality the scene was shot and when it was uploaded to the site. Next to the banner there is a short presentation of the website, along with some reviews from respected sources. The CuckoldSessions website works very well on a number of mobile devices and the main colors are grey and white – simple, understated and professional.
Models & Video Quality
The CuckoldSessions website has a lot of high-quality content for users. Just by counting the thumbnails presented on the homepage, I saw that there were about six rows of thumbnail, each with four links to the videos. The websites boasts of an over four thousand videos library and of being the number one interracial website on the internet. All the videos are shot in HD, in 1080p or 4K video quality. I liked that once you become a member, new content is not an issue anymore. You get full and free access to a stunning total of twenty-two websites from the DogFart Network. For a single membership, you get a lot of categories of porn. All of it is interracial and super hardcore and, regardless of your preferences you can find something to your liking: cumshots, anal, oral, threesomes, creampie and a lot of other niche themes and fetishes. You can find anything you can ever wish for, in an organized, professional archive.
There are a lot of girls shooting hardcore interracial sex on CuckoldSessions. Diversity is really the keyword when talking about them. The models roster has some famous names too: Nikki Benz, Brooke Summers, Riley Reid and more. On the girls' gallery page, the girls are ordered alphabetically. Clicking on each girl will take you to a page showing her movie for CuckoldSessions. You can see a short, one minute preview for each movie if you are not a member, but subscribers can watch it all and even download the full movie in the best quality ever. There are over one hundred and fifty models, all seasoned professionals and all of them looking their best in these hot new scenes. There aren't any doubts that CuckoldSessions has both quality and diversity and they know how to promote their content. The guys featured in the videos are also very good looking and have huge cocks.
Final Resume
CuckoldSessions will definitely tempt you not only with their high quality material, but also with the categories it contains. It caters to mainstream preferences but also to very niche ones. The hardcore, interracial and cuckold aspects bring a special flair to every movie and it will be hard for you not to want to buy a subscription.