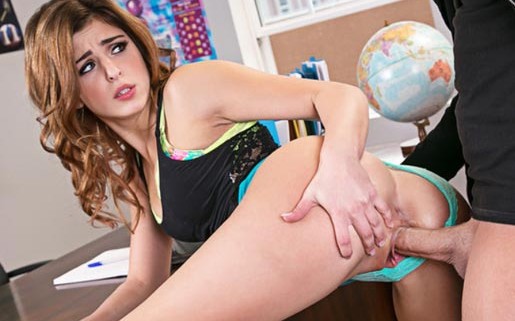 Intro
Naughty Bookworms is your ticket to sexy vivacious models that are studious girls waiting to please you in every way that they can. If stockings and glasses get you going this site is one that you must check out. The site has everything you might need laid out in a very orderly way. This site is part of a network of sites presented by Naughty America. The big bonus here is that subscribing to Naughty Bookworms will give you access to content from all 45 sites in the Naughty America network. Such sites as My Wife is my Pornstar, Tonight's Girlfriend, Naughty Weddings, and My Girl Loves Anal all have content waiting for you to check out just by subscribing to Naughty Bookworms. Convenient tabs are set up so that you can easily locate and access the amazing amount of content available. There's a directory of pornstars, A guide to new porn, and a virtual reality feature. Yes, that's right a virtual reality feature to get you even closer to the action you want. This site and its network of sites backing it up truly have a massive variety of videos, girls, and features to satisfy you more than you ever thought possible.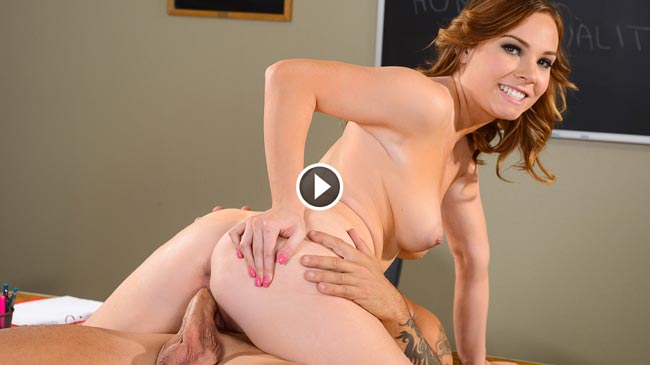 Website Layout
The design of the site makes it very accessible and user friendly. Seven tabs across the top make finding whatever part of the site you're looking for super easy. These tabs include home, new porn, porn finder, our pornstars, virtual reality, 45 porn sites, and login. This allows you straight access to the main features that the site offers. You can stay up to date on the latest porn that's been uploaded by clicking new porn or you can find any video you want to with the porn finder. There's an enormous list of top categories to narrow your search down. Just about any kind of video you want can be found within the Naughty America network and you don't have to pour over a lot of videos that you're not interested in to find the category that you do want. If it's a certain girl you want to see the site has that covered too. You can search for the girls alphabetically, by top rated models, or by how many videos they appear in. And a subscription to one site gives you access to 45 more sites in the network. However, the best and most unique feature has yet to come. This site has access to virtual reality videos. There are 28 videos on the site that are virtual reality ready and compatible with a number of virtual reality devices. The design is easy to use and brings the variety you want to you and the features are so numerous it's completely amazing.
Models & Video Quality
There are ten full pages worth of girls and numerous easy ways to find the one that you want to see. You can search the girls alphabetically, by top rated, or by the number of scenes they are in. The girls are beautiful porn stars. Amongst them names like Emma Star, Jayden Jaymes, Tara Holiday, and Diamond Jackson. Every type of girl you can think of wanting is waiting on this network of sites to show you just how much pleasure you can find. All the videos are extremely high quality. They are all HD and in many cases, they are shot in 4K as well. This gives you the highest possible quality for these videos. But if you're still looking for more add in the perk of the most interactive videos that you can imagine with the selection of virtual reality videos offered by the site. Naughty America has a special selection of virtual reality for you. Never before have you experienced porn in this way. You can feel like you are actually a part of the action vs. only watching the action. There are quite a few compatible devices including Google Cardboard, Oculus Rift, Samsung Gear VR, and Smart Phone Headsets. This a really rare opportunity to be able to take it to new levels with your video watching experience. This network is filled with so many girls and so many videos consisting of nearly every genre that you could want. Every video is ultra-high quality and some of them are even virtual reality. The girls are popular models and the videos are highly rated. Finding just the experience you want can be extremely easy with the Naughty America network.
Final Resume
Naughty Bookworms has all those sexy videos you came for full of nerdy girls in plaid skirts, stockings, and glasses. If this is your favorite niche of videos hours of pleasure awaits you at your fingertips. If your interests lie with other types of videos or you just want to take a break and find something new all the other sites in the Naughty America network are there to fulfill all your other needs. The entire network is equipped with 45 different sites containing thousands of videos starring thousands of girls and providing you with virtually limitless entertainment. The most unique and interesting as well as intriguing feature is the virtual reality option. The Naughty America network has virtual reality videos so that you can see your fantasies come as close to true as they possibly can. Cutting edge technology allows you a realistic experience that you aren't going to find very many other places. And still if you're not going for virtual reality all the videos are the topmost quality. We're talking videos in 4K. The choice to subscribe seems exceedingly easy; thousands of sexy models, thousands of hot top quality videos shot in not just high definition but 4K, and an option for virtual reality. Find nearly any genre you want with the girl that you envision. Naughty Bookworms opens up a very expansive world to you where the options are nearly limitless and the girls are just waiting to make your fantasies a reality. The best of the best resides here at NaughtyBookworms.

Back to the best pay porn sites or check these awesome porn review sites for further info about this one.
| Review Site | Evalutation | Trial Price | Monthly Price | Yearly Price |
| --- | --- | --- | --- | --- |
| | | | | |
| | | | | |
| | | | | |
---